Here's some basic information about skid steers, including how they are categorized, operating costs, maintenance, and -- of course -- final drive motors.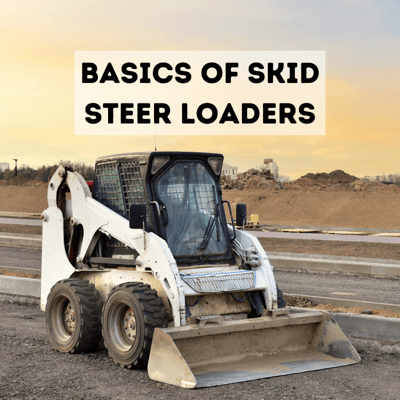 Skid Steer Loaders
Skid steers are highly maneuverable, even in very tight spaces, and able to achieve zero-radius turns. In fact, the first skid steer was developed for a turkey farmer who needed a compact, maneuverable solution to clean his barn more effectively. Several industries depend on skid steer loaders, including agriculture, mining, demolition, construction, and landscaping. SSLs are used for everything from land clearing to the commission of crimes (which we don't support).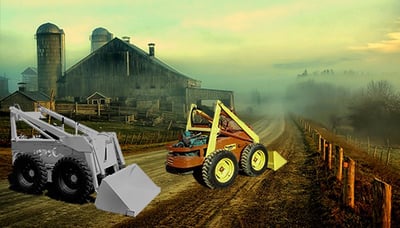 And skid steers vary in size, with the largest being the Gehl V420. Large frame skid steer loaders perform the heavy-duty jobs found in mining, demolition, drilling, and site preparation. Jobs with significant space constraints that require more power than a standard skid steer can do well with larger skid steers.
Skid steers can be classified different ways, with a common way being a combination of size and horsepower:
Small frame: 1,750 lbs under 50 hp
Medium frame: 1,750 to 2,200 lbs and 50 - 70 hp
Large frame: 2,200+ lbs and over 70 hp
Another way of classifying them is by ROC (Rated Operating Capacity), where most fall into the 1,751 to 2,200 pound category:
0 to 1,250 pounds
1,251 to 1,350 pounds
1,351 to 1,600 pounds
1,601 to 1,750 pounds
1,751 to 2,200 pounds
2,201 to 2,700 pounds
2,701+ pounds
Operating Costs for Skid Steers
In 2017, Equipment Watch estimated the average cost of owning a skid steer to be about $2,385.37 per month. However, that value depends on several factors: how it's being used, what part of the country you're in, the cost of fuel, and inflation.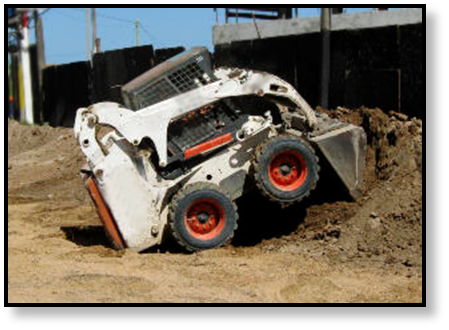 Any machine will have operating costs, but there are a variety of ways to minimize those costs for a skid steer -- starting with routine maintenance. In addition, using minimum ground speed when possible, avoiding counter-rotating turns, and removing counterweights when they aren't needed can further help. And don't forget to keep the heaviest end of your SSL uphill when moving up a slope and approaching transitions in slope or elevation at a 90-degree angle.
Daily Maintenance
There's daily maintenance that your skid steer needs to retain its value, extend its useful life, and provide optimum performance on the job site. This includes daily fluid checks, checking the filter system on the engine, checking the condition of your tires, and keeping your SSL clean.
In extreme weather, some additional steps may need to be taken. For example, the tire pressure will change with outdoor temperature as does the viscosity of the lubricants you use. Keeping an eye on the fluid levels during the winter is even more important, as well.
It's also critical to keep up the maintenance on your final drive motors. Checking gear oil levels, changing out the gear oil, replacing case drain filters, and keeping your undercarriage clean can go a long way in keeping those drive motors turning.
Skid Steer Safety
Skid steer accidents are all too common, and just one fatal accident is too many. These accidents range from on-site backovers to operating while under the influence. However, not all safety issues involve SSLs in motion. Operators and technicians have been seriously injured or killed when not following correct safety procedures during maintenance, such as securing the lift arms.
---
---
Final Drive Motors for Skid Steer Loaders
The final drives for your skid steer make it possible for it to move, making the drive motors a critical component. Of course, the worst possible place for a drive motor to fail is on-site, but fortunately, some signs you can look for that indicate they may be about to die. These include leaks, new noises or vibrations, a lack of power, or a tendency to steer to one side.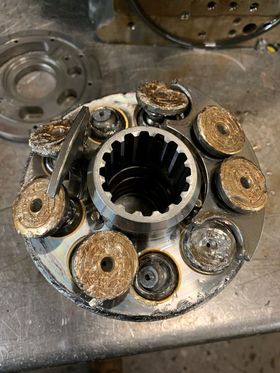 While some of these may consist of other causes (e.g., weak charge pump or brake issues), they mean it's time for some maintenance and possible repair on your SSL.
Troubleshooting an SSL Final Drive Motor
If your final drive is hot to the touch or the gearbox steams when water hits it, there are four possible causes: insufficient gear oil, brake issues, worn-out bearings, or hot hydraulic fluid. However, only the first three are directly related to your drive motor.
If your cover plate has cracked or blown off, you have a clogged case drain filter. A tremendous amount of pressure can build up when the case drain line becomes clogged, leading to irreparable damage.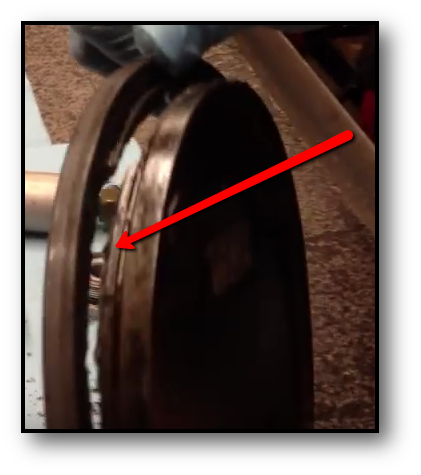 Noisy, vibrating final drives can be caused by a lack of gear oil in the planetary hub or worn-out bearings and gears. The charge pump is the likely culprit if you've got a high-pitched squeaking sound. Finally, excessive vibration and shuddering can result from a general lack of maintenance and components that have simply reached the end of their useful life.
Not all problems that seem to be caused by your drive motors can be fixed with a new final drive. For example, if your drive motors seem weak, there could be an issue with the charge pump, or your drive motors may be stuck in high-speed mode.
On the other hand, if your SSL is steering to one side, you could be looking at a problem with the brakes not releasing. There could also be a problem with the sprocket or a blockage in the case drain line.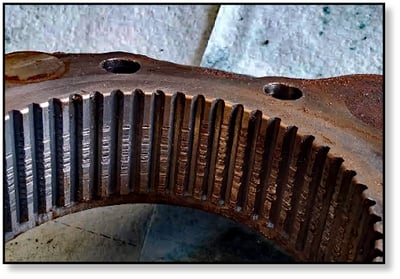 Contamination in either the hydraulic fluid or gear oil can lead to a host of problems, many of which affect the performance of your final drive. Accelerated wear, scuffing, scratches, and gouges in the internal components point to contamination.
Finally, a final drive spinning backward is usually a simple fix where all you need to do is swap the intake and return lines.
To learn more about damage and troubleshooting, we've got some blog posts we call the Autopsy series:
Conclusion
Contact us today if you need a final drive motor for a skid steer loader! Our experts can help you correctly identify the type of drive motor you need and summarize your options for new and reman drives. You can obtain a quote quickly!
---
---