Have you ever wondered who makes the largest skid steer loader?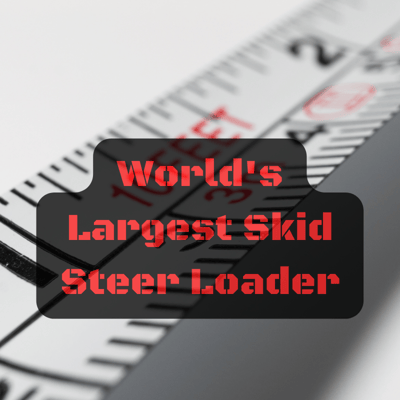 ---
Here are a few other Shop Talk Blog posts you might find interesting:
The Gehl V420 SSL
In terms of both weight and power, the largest skid steer loader currently on the market is the Gehl V420, released in 2018. At 142 hp and an operating weight of 4,200 lbs, it certainly outstrips the competition. The Gehl V420 is not only powerful but large a well, with an overall operating height of 187 inches and a 54 inch wheelbase. It has a Deutz TCD 3.6 Tier 4 liquid-cooled, turbo-charged diesel engine. It has heavy-duty pins and bushings combined with thick steel plating for added strength. Its overall operating height with the arms fully raised is 187 inches with a dump reach is 38 inches and a vertical lift path of almost 12 feet. And this Gehl SSL provides 354 ft-lbs of torque.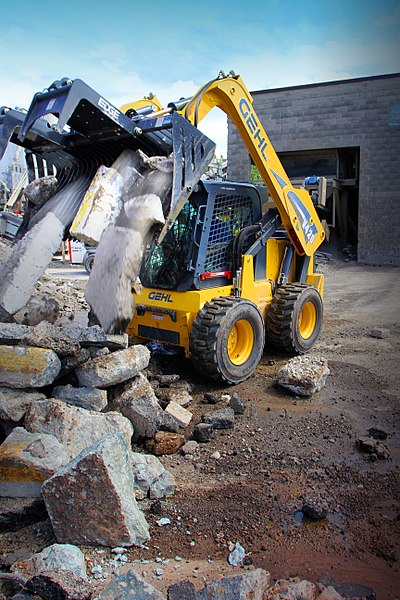 M.ribac31, CC BY-SA 4.0 <https://creativecommons.org/licenses/by-sa/4.0>, via Wikimedia Commons
How Does the Gehl V420 Compare?
Three comparable skid steers would be the John Deere 332G, Bobcact S850, and the Case SV340B. As you can see in the tables below, none of these models quite match the Gehl V240 but they are still considered large frame skid steer loaders (i.e, weigh more than 2,200 lbs and have more than 70 hp).
The Gehl has a greater tipping load at 8,400 pounds, with the Bobcat S850 being the next in line at 7,900 pounds (500 pounds less). It also has greater horsepower and operating capacity, but less bucket breakout and arm lifting force, with the Deere 332G leading the pack.

In terms of operating weight, none of these skid steers come very close to the sheer weight of the Gehl V420, and that also suggests that it uses more fuel than the other models. The Deere 332G is taller when it comes to the height to the ROP, but its wheelbase and width over tires are both less. As far as maximum travel speed, the Bobcat S850 does have it beat at 12.3 mph compared to 12 mph.

Large Skid Steer Loaders
Industries that use large skid steers like these include mining, forestry, construction, and agriculture. And they are often found doing jobs such as ...
Utility work
Excavation
Site prep
Grading
Drilling
Material handling
They usually have larger buckets which significantly increase productivity and they can move faster than smaller models. On the other hand, they are a bit more challenging when it comes to maneuverability and their tires wear out more quickly.
Conclusion
Some skid steers are bigger than others, and the Gehl V420 is a great example of a very large skid steer loader, but there are many other SLLs that fall within the large category. Oh, and don't forget that you need a CDL license to tow a Gehl V420!
---