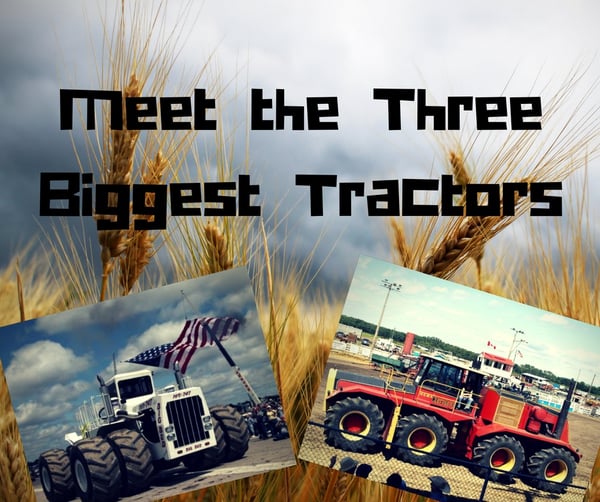 There are big tractors, and then there are massive tractors like the "Big Bud" 16V-747, the "Big Roy" 8WD Model 1080, and the AGCO Challenger MT975B – considered by many to be the three biggest tractors in the world. Find out the capabilities of these massive tractors and how they are used.
---
Here are a few other related Shop Talk Blog posts you might be interested in ...
Big Bud 747
The Big Bud 16V-747 was built by the Northern Manufacturing Company back in 1977. The cost at that time was around +$300,000. It has double the weight and double the horsepower of your typical production tractors. It weighs in at 135,000 pounds when fully ballasted. It's fuel tank holds 1,000 gallons of diesel and its hydraulic tank holds 150 gallons of hydraulic fluid. Big Bud has a Detroit Diesel 16V92T 16-cylinder, 2-cycle engine that can generate 1,100 horsepower (based on later modifications). It is considered the world's largest tractor.
This monster tractor has been primarily used for deep plowing, first by the Rossi brothers for their cotton farm in California and later by Willowbrook Farms of Indiana. Later, the Williams Brothers Farm in Indiana (near where it was first built) used it to pull an 80-foot cultivator. After the company that makes it's 8-foot tires went bankrupt, a decision was made to retire it. Big Bud is living comfortably at the Heartland Museum in Clarion, Idaho.
Big Roy
Big Roy 8WD Model 1080 was built by Versatile in Canada and, like Big Bud, it was manufactured in 1977. This massive 8-wheel drive tractor with four axles was intended to be a prototype, weighing in at 52,000 pounds. Big Roy can hold 550 gallons of diesel fuel and runs on a 6-cylinder, 500 hp turbocharged Cummins KTA1150-600. Unlike most modern tractors, the engine of this 4WD drive tractor is located at the rear and CCTV was installed to allow the operator to view the rear of the tractor.
As awesome as it was, this prototype never went into production. Big Roy currently resides at the Manitoba Agricultural Museum. If you are curious about where Big Roy got its name, the answer is simple: it was named after the 6'4" President and General Manager of Versatile, Roy Robinson.
AGCO Challenger MT975B
The Challenger MT975B 4WD tractor was manufactured by AGCO in Minnesota. It has a Caterpillar 18.1L 6-cylinder turbo diesel engine that runs off a 390 gallon fuel tank and generates 570 hp. This monster tractor weight 60,000 pounds. The Challenger MT975B was first introduced in 2006 and had a four-year production run until it was discontinued. They cost between $250,000 and $300,000 new, and packages were available for it that included a scraper plate with hydraulic couplings and a belly guard for those who planned to use it to pull scraper pans. Unlike the Big Bud and Big Roy, there are more than one of these monsters out still out there in use and they aren't in museums. This AGCO Challenger model is the largest 4WD articulated tractor in the world.
Conclusion
You might never have the need of a monster tractor like Big Bud, Big Roy, or the AGCO Challenger series, but they are still fascinating to about – and no doubt even more fun to operate. If you've ever seen these guys in person, drop a note in the comments.
---
Featured Image attributions
Image of Big Bud 747: By Myron Reynard [CC BY-SA 2.0 (https://creativecommons.org/licenses/by-sa/2.0)], via Wikimedia Commons
Image of Big Roy: By Shahnoor Habib Munmun [CC BY 3.0 (https://creativecommons.org/licenses/by/3.0)], from Wikimedia Commons
---
Texas Final Drive is your partner in providing new or remanufactured final drive hydraulic motors from a single mini-excavator to a fleet of heavy equipment. Call today so we can find the right final drive or hydraulic component for you, or check out our online store to find your O.E.M. manufacturer brand motor now.