Hans and Franz are the names given to NASA's massive crawler-transporters. Their directive is simple: transport massive rockets, space shuttles, and now (at least for one of them) the Space Launch System to their respective launchpads at Kennedy Space Center in Florida. And they've been working for fifty years ...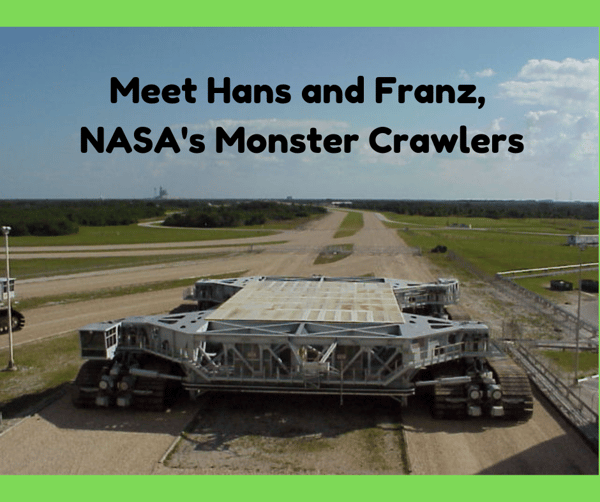 ---
By the way, here are a few other blog posts you might find of interest ...
Their Early Years
When they were first created in the 1960s, Hans and Franz were known as the as the Missile Crawler Transporter Facilities. It should be no surprise that the Marion Power Shovel Company was tapped to manufacture and assemble these behemoths, with their reputation for making massive shovels.
Although they are associated with Florida, the manufacturing process for Hans and Franz began in Ohio in 1963. Two years later, they were crawling on their own, after their parts were shipped to Florida and they were assembled. Between the two of them, they have traveled a combined 5,000 miles -- which is pretty good for machines that weigh 3,000 tons each and only run a maximum of 1 mph!
After their first trip, the "brothers" left metal debris in their wake. It turned out that the roller bearings had failed, leaving rollers, racers, and retainers from the traction support roller assembly in pieces. The problem was fixed, and stronger bearings were used.
Some Interesting Stats
Hans and Franz official names are Crawler Transporter 1 and 2. Each one has …
Two 2,750 hp V16 ALCO 251C diesel engines;
Two 1,006 hp generators driven by two 1,065 engines providing power for lighting, steering, hacking, and ventilating;
And a total of 16 traction motors that are powered by four 1,341 hp generators!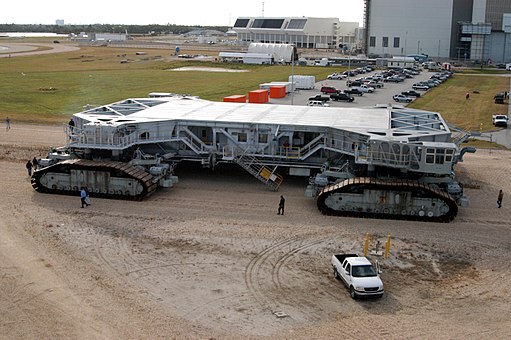 By NASA [Public domain], via Wikimedia Commons
Here are some facts put into terms that we humans can better relate to …
In 1960, Hans and Franz cost $14 million dollars, or about $117 million dollars today (and because of this cost they were also nicknamed "Them Golden Slippers")
When they were built, they were the largest tracked vehicles in existence
Curb weight is 6 million pounds, which is as much as 1,000 pickup trucks or 15 Statues of Liberty
Height can vary between 20' and 26'
Can transport weight equivalent of 20 fully-loaded Boeing 777 airplanes, or 18 million pounds
A baseball diamond will fit on top of one crawler
Their top speed is 1 mph loaded, 2 mph unloaded
The hydraulic system contains 2,500 gallons of hydraulic fluid
The gear ration on the drive system is 168:1
Each one requires 150 gallons of fuel to travel a single mile, or 0.0067 mpg (making it a good thing that they can hold 5,000 gallons of fuel)
They have 16 traction motors, four at each corner (we were disappointed to find out that these were not hydraulic motors) and you can see some of them below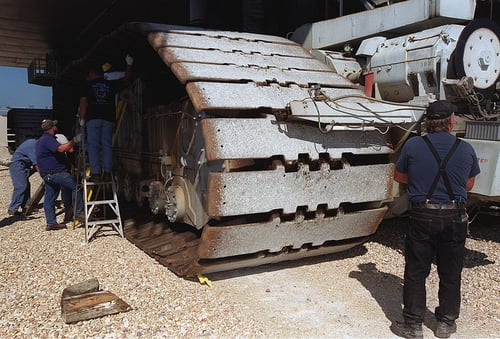 By NASA/KSC [Public domain], via Wikimedia Commons
On the Move
These behemoths roll underneath a launch platform, pick up their load, and carry it slowly to either Launch Pad 39A or 39B. The path to the launch pads is at a 5% slope, so a hydraulic system is used to keep the load on top of the crawler-transporter as level as possible. It can achieve accuracy to within +/- 0.0167 degrees. Since the crawler transporters move so slowly, it can take several hours to make the trek to the launch pads.
Latest Changes
According to NASA, Crawler Transporter 2 (aka, Franz) is in the process of being modified to be able to carry an even heavier load, namely a mobile launcher with the SLS (Space Launch System, combination rocket and luanch tower combination). This has included the installation of even more powerful generators to produce a total of 1.5 MW. Another aspect of its modification is redesigning its roller bearings and upgrading its other bearings. Franz will also receive an improved lubrication system. That means that with modification the Crawler-Transporter can continue to be used in future NASA missions.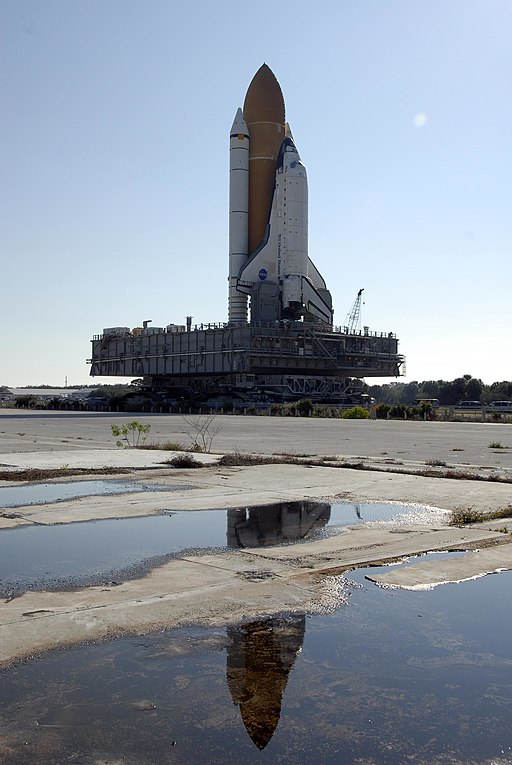 By Photo credit: NASA/Kim Shiflett [Public domain], via Wikimedia Commons
Conclusion
Hans and Franz don't need hydraulic motors (and we don't even want to think about how large they would have to be!) but we known that many of our readers do. Be sure to give us a call if you need help finding a quality replacement for a final drive motor. Oh, and one more thing: NASA has an awesome blueprint-style infographic about the crawler transporters if you are interested.
---
Texas Final Drive is your partner in providing new or remanufactured final drive hydraulic motors from a single mini-excavator to a fleet of heavy equipment. Call today so we can find the right final drive or hydraulic component for you, or check out our online store to find your O.E.M. manufacturer brand motor now.
---