Large-frame skid steers weigh over 2,200 lbs and typically have more than 70 hp, and are accounting for more and more of US skid steer market. In this Shop Talk blog post, we are going to discuss the uses, benefits, and drawbacks of larger SSLs.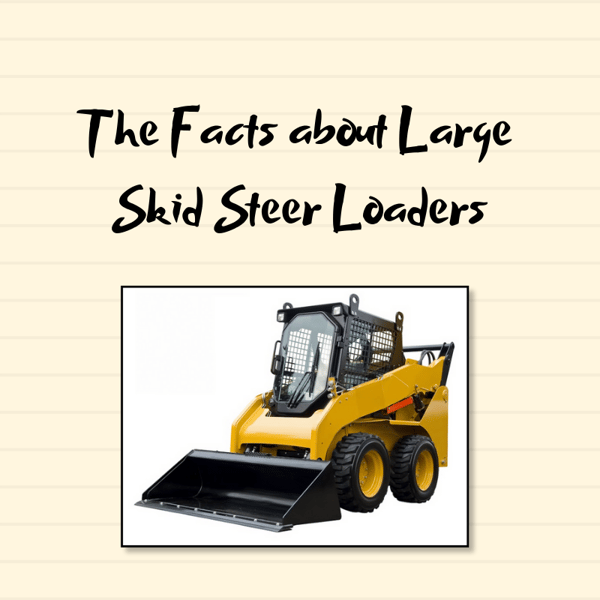 Uses for Large Skid Steer Loaders
Larger skid steer loaders are regularly used for tasks such as …
Excavation
Grading
Utility work
Drilling
Site prep
Material handling
You will also see larger skid steer loaders used in forestry, where attachments make them useful for many different functions. Larger skid steer loaders also find applications in mining, construction, and agriculture.
Benefits of Larger Skid Steer Loaders
There are a host of benefits that come with owning a large skid steer loader. Large skid steer loaders naturally have larger buckets, which have the potential to increase productivity if the main focus is earth moving. They are also faster and more powerful than their smaller counterparts. They are smaller than backhoes and wheel loaders, which makes them ideal for jobs with space constraints that still require a high capacity machine.
Large SSLs work really well for smaller contractors that may not have as much in the way of resources or labor. They are more powerful than a standard skid steer, have greater breakout force available, move faster, and can be used for many different tasks because of the various attachments that are available. In fact, larger skid steers have more hydraulic output available for more powerful attachments. They also allow contractors to get a great deal of work done even with a limited amount of labor.
Drawbacks of Large Skid Steer Loaders
While there are many benefits to the larger skid steer loaders, there are also drawbacks -- and most of those drawbacks relate directly to the weight and size that makes the benefits possible. As mentioned earlier, larger skid steer loaders have larger buckets … but at the same time those larger buckets may reduce maneuverability. They are larger machines in general, which will impact how well they can fit and maneuver in tight situations. In addition, you will need a CDL in order to tow them. Because they are larger, they will have more ground pressure and less flotation. You can expect more wear of the tires, especially if you do quite a bit of zero-radius turning.
Conclusion
Large skid steer loaders are expected to experience a continued increase in demand, primarily because of their ability to increase the productivity of specific tasks like moving materials, especially dirt, sand, and gravel. While their increased size means more power, speed, and hydraulic flow for attachments, it also means less maneuverability and a higher ground pressure.
---
Texas Final Drive is your partner in providing new or remanufactured final drive hydraulic motors from a single mini-excavator to a fleet of heavy equipment. Call today so we can find the right final drive or hydraulic component for you, or check out our online store to find your O.E.M. manufacturer brand motor now.
---