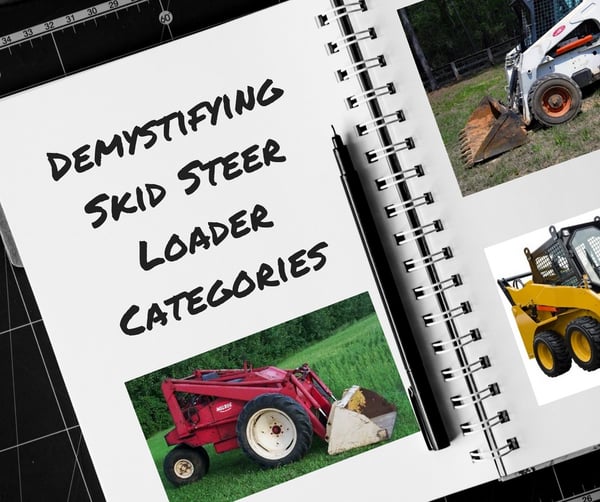 Skid steer loaders, also known as skid steers, skid loaders, and compact wheel loaders, are an indispensable part of nearly every farm, dairy, and construction site. These machines are like Swiss army knives because of all the purposes they can be made to serve. One common area of confusion with regard to skid steers is how they are classified. The goal of this Shop Talk Blog post is to demystify the classification of SSLs.
---
Here are some additional Shop Talk Blog posts about skid steers ...
Categorizing Skid Steers by ROC
ROC stands for rated operating capacity, and it is how the Society for Automotive Engineering rates skid steer loaders. It represents 50% of the tipping load for the skid steer working under ideal conditions and is a measure how much a skid steer loader can safely lift. The procedure for establishing the ROC follows SAE J818 and used is the same for every model of skid steer that is tested. The bucket is raised until it is at its furthest point from the operator. Then it is filled with weights until the rear wheels of the skid steer begin to lift off the ground. That weight is then the tipping load for the skid steer. To determine the ROC, that value is halved.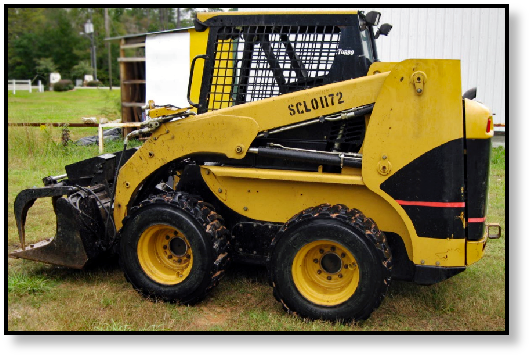 0 to 1,250 pounds
1,251 to 1,350 pounds
1,351 to 1,600 pounds
1,601 to 1,750 pounds
1,751 to 2,200 pounds
2,201 to 2,700 pounds
2,701+ pounds
Most skid steers currently manufactured fall into the 1,751 to 2,200 category.
Categorizing Skid Steers by Size
The size of a skid steer loader and its horsepower seem to be closely related, making skid steer size another useful way of categorizing skid steer loaders:
Small frame: 1,750 lbs under 50 hp
Medium frame: 1,750 to 2,200 lbs and 50 - 70 hp
Large frame: 2,200+ lbs and over 70 hp
Small frame machines work well for landscaping, underground construction, and site development. Large frame machines, with their combined weight and power, are ideal for jobs that involve heavy lifting as well as construction site tasks such as excavating and grading. Most skid steer loaders fall into the medium frame category.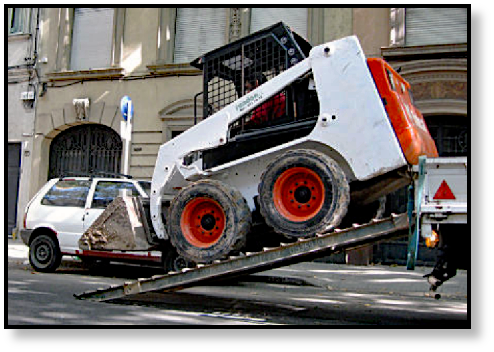 Radial Lift versus Vertical Lift
Another way to categorize skid steers is based on whether they are a radial lift design or a vertical lift design. Radial lift is an older, more simple design with a single pivot point that generates a curved load path for the lift arms. In the vertical lift design, the lift arms follow an S curve that approximates a straight line, as opposed to the curved path of the radial lift design. The vertical lift machines excel at material handling and have a greater lift height. The radial lift machines do their best work when it comes to heavy digging and earthmoving. They are also a little bit cheaper and easier to maintain.
Conclusion
Whether you use your skid steer to remove snow, move sick cattle, clean out a barn, or move dirt, it's helpful to understand how they are rated and categrorized. Understandiing the ROC of a skid steer loader helps you to better recognize the maximum capacity of your machine and use it more safely. When it comes time to purchase a new one, a good understanding of radial lift vs vertical lift, as well as the power associated with different ROC classifications, will help you make a more informed purchasing decision.
---
Texas Final Drive is your partner in providing new or remanufactured final drive hydraulic motors from a single mini-excavator to a fleet of heavy equipment. Call today so we can find the right final drive or hydraulic component for you, or check out our online store to find your O.E.M. manufacturer brand motor now.
---