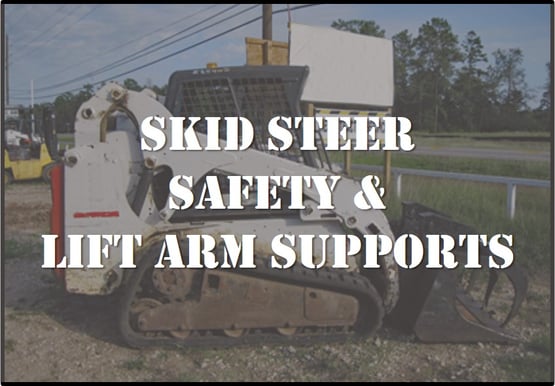 When performing maintenance or repairs on a skid steer loader, you may not think about being injured or killed -- but it does happen. Some of these fatalities came from a failure to use lift arm supports. In this blog post, we are going to discuss accidents related to lift arms and how the use of skid steer lift arm supports could have prevented them.
Fatalities Related to Skid Steer Loader Arms
In 2015, a foreman was working on a skid steer's hydraulic lines. The bucket was raised and he was working beneath the lift arms. When he disconnected one of the hydraulic lines, the support arms and bucket fell, crushing him to death. No lift arm support devices were being used; had they been, he would likely still be alive.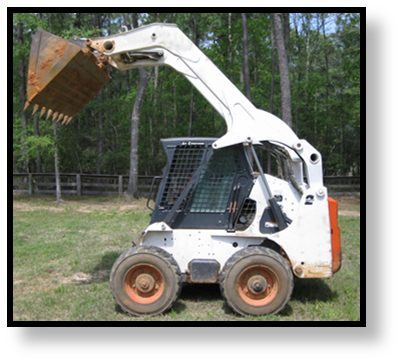 In 2012, another man was crushed while trying to repair the pedals that control the lift arms on a skid-steer loader. He wasn't new to working on skid steers -- he'd been working eight years for the same boss and had been a skid steer mechanic for several years before that. However, this time he wasn't following safe practices. It seems he had attached an overhead chain hoist to hold up the bucket of the skid steer. OSHA investigators believe he had hooked the chain directly to the bucket. While he was working on the skid steer, the bucket fell and crushed him between the lift arms and the cab. He was found dead by his boss after his wife was had expressed grave concerned that he had not returned home. This tragic accident would have been prevented by the proper use of lift arm supports.
Between 2009 and 2015, the state Massachusetts saw four fatalities where people were killed while servicing a skid steer or a multi-terrain loader. Two of those incidents could have been prevented through the use of lift arm supports. Both men were crushed between the lift arms and the cab, and one of them had 25 years of experience in servicing these machines.
---

---
Skid Steer Loader Arm Supports
Any time you're working around a skid steer with the lift arms raised, you need to use a lift-arm support device -- either one provided the manufacturer or one that is manufacturer recommended (especially true of older model skid steers).
According to the NIOSH (National Institute for Occupational Safety and Health) Alert for Preventing Injuries and Deaths from Skid-Steer Loaders,
"[Skid steer] machines now being manufactured have either pin-type support devices (which can be operated from inside the operator's cab) or strut-type support devices (which may also be operated from inside the cab or may require the help of a coworker)."
If the skid steer doesn't have one or the one it has is damaged, you need to contact either your equipment dealer or the manufacturer to either obtain a replacement or find out the proper support procedure.
Conclusion
Some of the fatalities we discussed in this blog post were experienced workers who still managed to make a mistake that cost their lives. Skid steers pose safety issues when being operated, and when being serviced. Make sure you know how to use the loader arm supports on your skid steer, and if you don't have supports them please purchase some. Don't become one of the fatality statistics.
---
We've got a few more skid steer loader posts you might find helpful ...
---
Texas Final Drive is your partner in providing new or remanufactured final drive hydraulic motors from a single mini-excavator to a fleet of heavy equipment. Call today so we can find the right final drive or hydraulic component for you, or check out our online store to find your O.E.M. manufacturer brand motor now.
---
More Posts About Skid Steer Loaders!
Here are a few other related posts that you might find helpful ...
---