The track drive on your CTL or compact excavator has gone out, and you need a replacement that's within your budget. You've heard about rebuilt track drives and final drives, but you still have questions about them. If that describes you, you've come to the right place.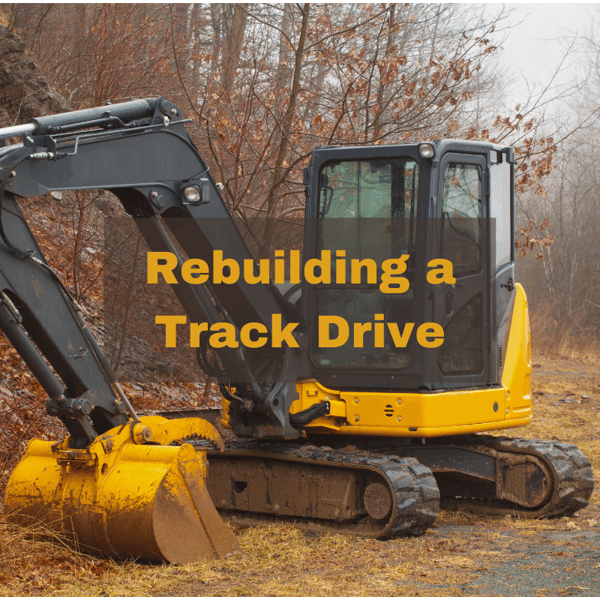 ---
Here are a few other blog posts you might find helpful:
Cleaning
When a track drive core is received, it is immediately logged into the system so it can be traced throughout the rebuild process. From there, it's cleaned up inside and outside. We spend a lot of time on the outside for two reasons:
Prevent further contamination when we open up the final drive
Restore the exterior of the final drive to like-new condition.
We use several types of equipment to clean up the exterior, starting with a pneumatic needle scaler to get off the hardened crust, followed by a visit to the automated parts washer cabinet.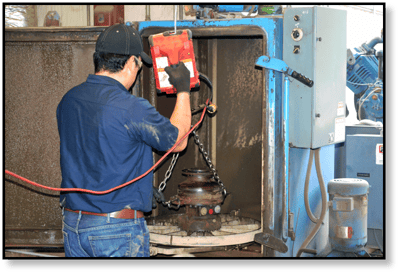 This is the parts washer we use for final drive exteriors.
In the parts washer cabinet, the track drive is sprayed with a combination of high-pressure hot water and a special detergent. When it's finished, all the grease, oil, and carbon are gone. And we still aren't done! It gets sandblasted until all the paint and any remaining scaling are completely gone.
But wait ... there's more! Once we get the track drive open and start disassembling it, the parts get cleaned, too. Now that doesn't include stuff like seals and bearings that have to be replaced anyway, but everything else goes into a parts washer. There, the parts are cleaned with high-pressure, super hot water that includes a powerful detergent. When those parts come out, they are clean.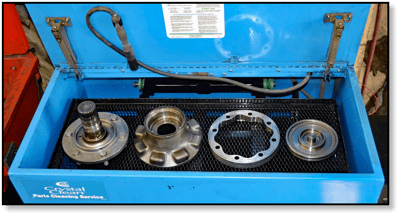 Here are radial piston motor components coming out of the parts washer.
Inspecting
We do inspections before and after parts cleaning--let me explain why. For components that go into the parts washer, we'll wait until they're clean to take a look at them. That is, unless they are so badly damaged that there's no hope of them ever being reused. If we pull a rotator group and see that the piston shoes are badly scarred or find a roller trapped in a rotary piston hydraulic motor, we know those parts are going to be totaled.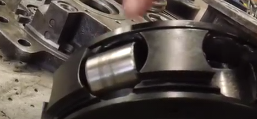 This didn't need much cleaning to realize there was a serious problem.
To troubleshoot and start evaluating the condition of the travel motor by wiping off bearings and seals to see what's been going on.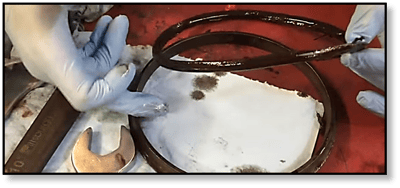 Seals that look like this lead to leaks and contamination.
This kind of damage is serious and means we likely need to start looking for a replacement hub. Having metal scarred like that also means that there was generated contamination that seriously damaged other components. There may be few if any parts in this track drive that can even be redeemed. It's likely totaled and will not be rebuilt.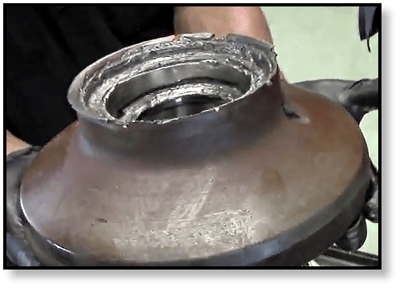 This bearing points to some serious issues within the final drive.
After we get the rest of the parts back, then we perform a detailed inspection. We look for all kinds of damage: gouges, pits, scuffing, scratches, patterns of wear. These types of things are rated from minor to severe, and any parts that can't be restored are marked for replacement. Every part is then graded according to its condition. And we look for different things when it comes to different parts. For example, we look at the surface condition of the inner surface of cam rings and mark areas with wear, scratches, gouges, etc.

This cam ring wear was found during the inspection.
For the braking system, we look for signs of damage to the splines. We also look at the exterior of the brake hub, but a scratch or gouge there is not as serious as one to the splines.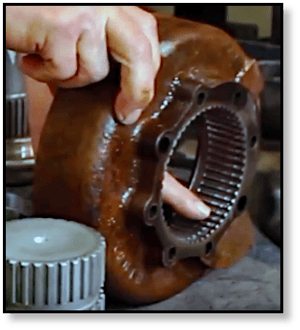 This is a brake hub with seriously damaged splines that can't be restored.
When it comes to gears, axles, and brake hubs, we always look closely at splines. They are the first thing to wear out and will reduce the efficiency and performance of your travel motor if they are wearing out.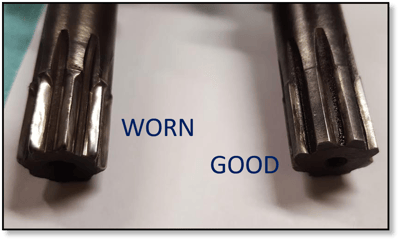 Splines in good condition vs splines in bad condition.
Some parts can be restored, but certainly not all. For example, when surface damage isn't too severe (e.g., minor scratches versus deep gouges) lapping can be used to restore the surface finish and flatness of some parts.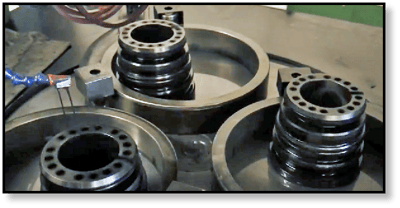 The surface damage on these distributors isn't too severe so they can be restored to like-new condition with a little time on the lapping table.
Replacing
As mentioned earlier, seals and bearings are always replaced as well as any parts that didn't meet inspection requirements. We make sure all our replacement bearings, seals, gaskets, and other parts are of the highest quality and are very particular about manufacturers. And if one gear in the planetary gear set needs replacement, we go ahead and replace all three. If one was worn out, the others don't have much service life left, either. As another example, consider the piston shoes in an axial piston motor: if one shoe is damaged, it is highly likely that the others are also damaged, so all of them are replaced.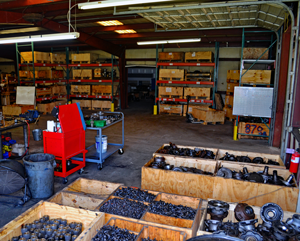 We keep high-quality replacement parts in inventory to speed up the rebuilding process.
For some parts, especially when replacements are hard to find, new parts can be manufactured in house. For example, casting and/or CNC machining can be used to make replacement hubs for Bobcat T300s and Bobcat T190s. We've also manufactured main housings the same way.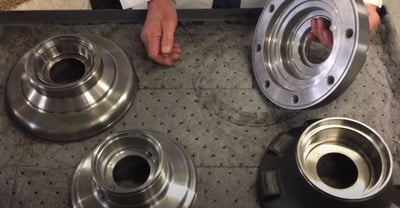 CNC machined replacement hubs.
Assembly
Once the right parts are ready to go, they are assembled. Our team is careful about everything from tightening bolts to the correct torque to taking care to not damage seals during their installation. We even use Loctite Threadlocker to make sure critical fasteners don't come loose. And our reassembly team does this all day long.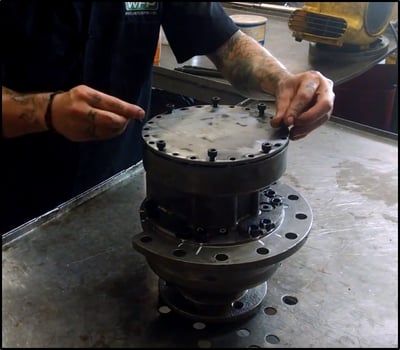 Our team is careful down to the smallest details, like torquing bolts in the correct sequence.
However, reassembly isn't the last step in rebuilding a track drive here.
Quality Control
We take quality control very seriously, so we run an exhaustive set of tests and document the results to establish traceability. Pneumatic leak detection and calibration inspection take place, as well as the following hydraulic performance tests:
Idle test
Load test
Case drain flow
Brake engage and release pressure
RPM performance,
Dual-speed performance
If a travel motor fails any of these tests, it's sent back for troubleshooting and more work until it does past all the quality control tests.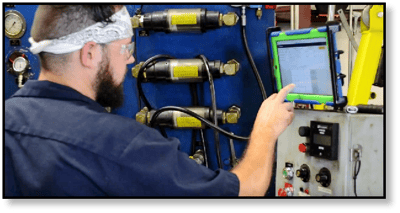 We have everything we need to ensure that only high-quality rebuilds leave our facility.
Final Steps
Once a travel motor has passed all the tests, it gets one more external wash and is then painted. Once that is complete, it's ready to go to a customer at a fraction of the cost of a brand new travel drive but with performance that meets or exceeds original OEM standards.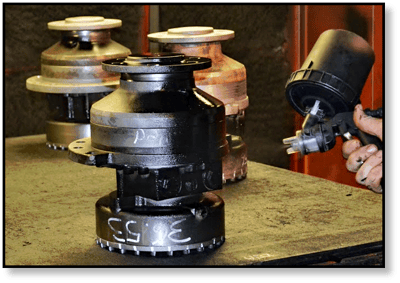 Conclusion
We have high-quality final drive rebuilds in stock for skid steer loaders, compact track loaders, multi-terrain loaders, and compact excavators. Texas Final Drive reman final drives can't be beat for quality, performance, and cost. Contact us today to see what we have to offer you! Here's a link to our Request for Quote page or you can call us at 281-516-5292!
---
---
---