Have you ever wondered what the inside of a real hydraulic repair shop looks like?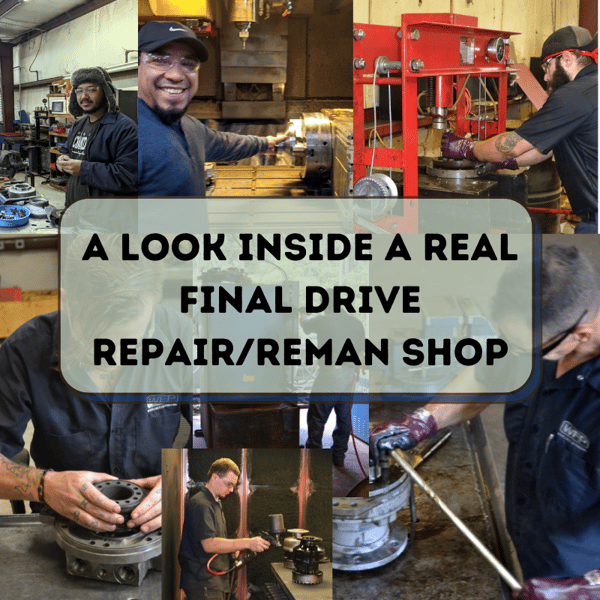 ---
Here are a few other Shop Talk Blog posts you might be interested in ...
---
Cleaning Equipment
The first phase of cleaning the outside of a final drive is in a spray wash cabinet. These wash cabinets use a mixture of high-temperature, high-pressure water + detergent to remove grease, oil, carbon, etc., from the outside of the final drive. The final drive is placed on a rotating platform within the spray wash cabinet, the door secured, and the process starts. Once the cleaning cycle is complete, the outside of the drive motor is degreased and clean except for hardened buildup.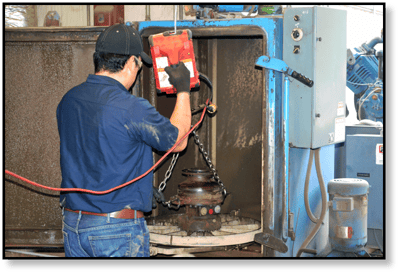 A needle-gun scaler, also known as a needle gun or needle scaler, is used to remove the thick, hardened buildup, rust, and scaling that all final drive motors develop on the outside. The name needle-gun comes from the array of small chisels that look almost like needles. These chisels are vibrated at high speed to break loose hardened debris, rust, and paint.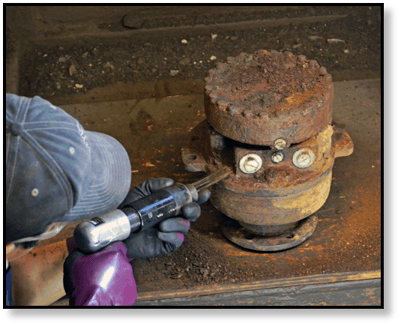 Whatever the spray wash cabinet and needle-gun scaler can't remove from the outside of a final drive, a sizeable sandblasting cabinet can. Sandblasting, also called abrasive blasting, propels streams of abrasive materials at high speed and force at the exterior of the final drive. This takes place in a sealed cabinet so that no one is exposed to abrasives in the air. Once this sandblasting is complete, no more paint, rust, or hardened debris will be left.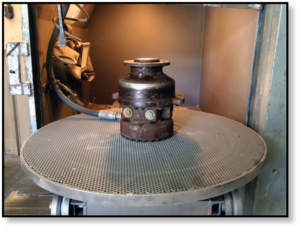 Once the final drive has been opened up, some parts need to be cleaned and degreased. A parts washer removes grease, oil, carbon, metal chips, and more. This is accomplished through a combination of pressurized hot water and an environmentally safe detergent that leaves parts thoroughly clean.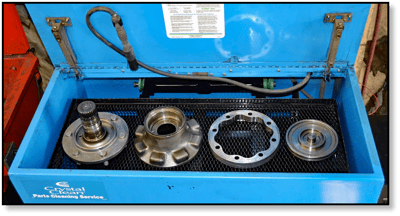 Tools for Assembly and Disassembly
It makes sense that assembly and disassembly of a final drive motor would also require a wide variety of tools, ranging from small picks to pneumatic socket wrenches. Pliers, screwdrivers, ball-peen hammers, pneumatic power tools, socket wrench extender, and Loc-Tite are all part of what you'll see at a typical workstation.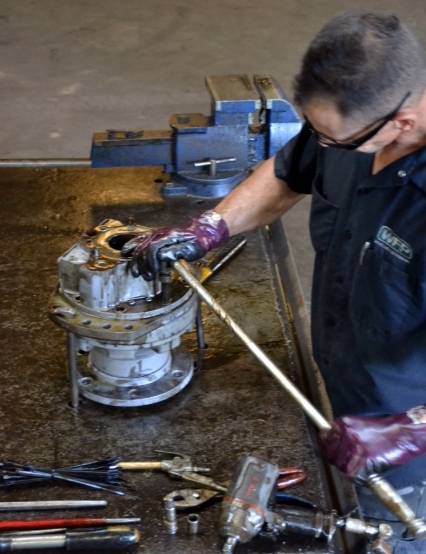 Besides what you'll find in a technician's toolbox, there is some other critical equipment. For example, hoists and overhead cranes are needed to move final drives from station to station within a repair shop. They are also required to move the drive motors in and out of spray wash cabinets and sandblasting cabinets.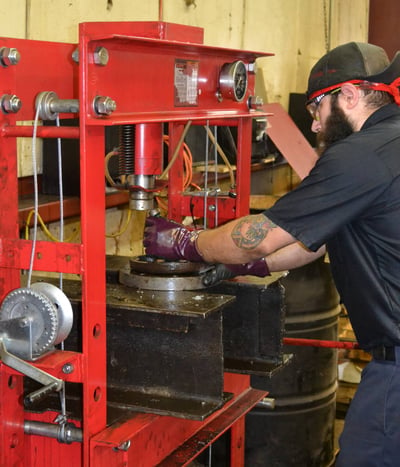 A hydraulic press or heavy-duty arbor press is also invaluable. Manual arbor presses like the one shown safely separate the hubs in a final drive motor and can be used for other tasks. As you can see here, a custom jig has been installed to make the separation process more manageable.
---

---
Machining Tools
Machining equipment is also essential at a final drive repair/reman shop, including CNC (Computer Numeric Control) milling and turning. One of the major parts we can fabricate here at Texas Final Drive are hubs, such as those for Bobcat T300s and T190s. We also machine main hubs if needed.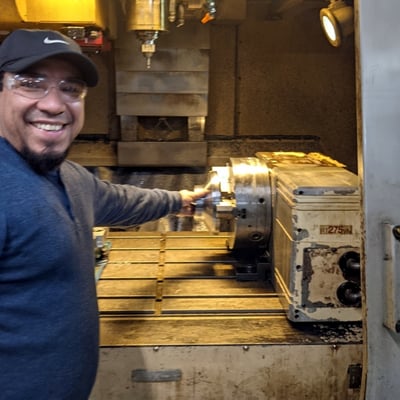 A lapping table is used to restore a smooth, flat surface on a part with extremely tight tolerances. Lapping tables are often used with components like distributors, where unevenness leads to blow-by and reduced final drive motor performance. Here at Texas Final Drive, we have a Lapmaster 24 and trained technicians that know how to use it properly. In the video below, Dr. Drive talks about how we put it to use and how it benefits you.
Testing Equipment
A quality repair/reman final drive shop won't send a drive unit out until it has been thoroughly tested. Testing starts with a calibration inspection followed by leak testing using a pneumatic leak detection instrument that identifies the presence of leaks and how severe those leaks are. And don't forget that test results are carefully documented in a digital database.
Next, a quality assurance inspector takes a final drive over to a hydraulic test stand to evaluate performance using tests such as …
Idle test (high and low readings)
Load test (high and low readings)
Case drain flow
Brake engage and release pressure
RPM performance
Dual speed performance (if applicable)
Documentation
A quality final drive repair/reman shop is careful about documentation. This includes quite a bit of information, all entered in a digital database. The goal is to trace the progress of the final drive through the shop. This involves information such as who performed the inspection and the results, who performed the repairs or reman, who performed the tests, and what the results were.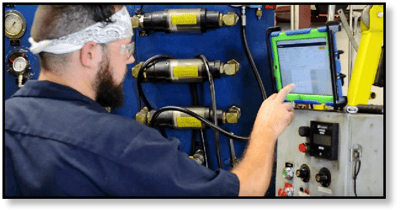 At any point, we know where every final drive is and where in the repair or rebuild process it is. Here at Texas Final Drive, we started with a digital documentation package called FileMaker and then developed our own custom solution.
A Team of Trained, Experienced Technicians
A facility can have the latest equipment, but it doesn't do any good if no one knows how to use it right. And just reading a book or watching someone else isn't enough, either. A team of technicians and sales experts should have head knowledge and practical experience. And those with more experience should actively mentor and train newer team members.
Conclusion
At Texas Final Drive, we don't just sell final drives -- we repair and rebuild them, as well. Our facility in Magnolia, Texas has everything needed to perform lasting, reliable repairs and high-quality rebuilds that meet or exceed OEM standards. If you need a final drive, we are your source. Contact us at (281) 205-3255!
---