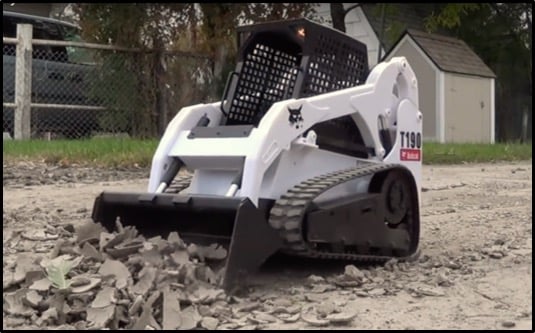 The Bobcat T190 is a compact track loader (CTL) that is no longer in production by Bobcat. However, it is still in use all across the United States. Even though the last production year for the Bobcat T190 was 2008, these machines have proven so sturdy and powerful that there is still a strong demand for used models and replacement parts. Here at Texas Final Drive, one of our most popular products is the reman/rebuilt Bobcat T190 final drive motor.
A Little History
The Bobcat T190 was produced in 2001, the second size to be added to the Bobcat CTL line. Using the mainframe of the vertical path 773/S185 gave it more lift capacity than other compact track loaders of similar size. Its small frame size combined with outstanding lift capacity no doubt contributed to its lasting popularity.
Finding the Right Replacement
When it is time to replace the final drive on your Bobcat T190, you will need to be careful to order the correct replacement. There are four port models and five port models, so the first step would be to determine the number of ports on the final drive. The five port model has an additional port on the bottom of the drive, which you can find on the flat cover plate that is held on by twenty-four bolts.
If you have a four port drive, then you will need to determine whether it requires six sprocket bolts or or twelve sprocket bolts, as illustrated below. Fortunately, that's pretty easy to determine.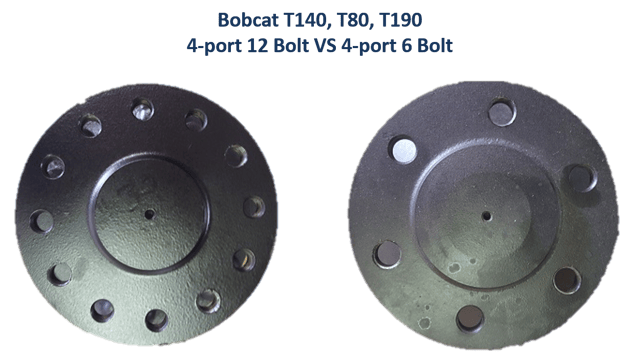 If it's a five port drive, you need to figure out if it is a regular version or a short nose version. The figure below shows how to determine which model you have. It is very important to make sure that you order the correct model.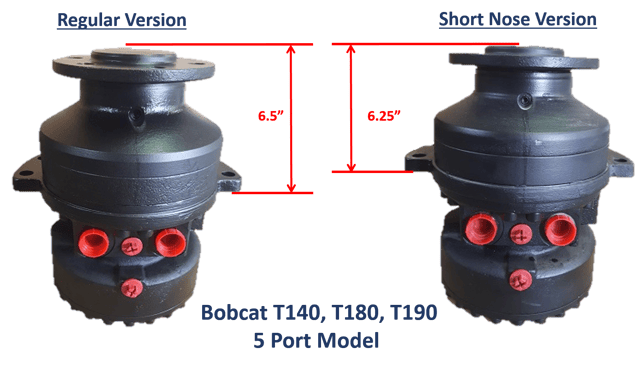 Remanufacturing Process for Bobcat T190 Final Drives
While each shop does it differently, our reman final drives go through a rigorous ten-step process to ensure that the end result exceeds Bobcat's original specifications. We begin by cleaning up a T190 final drive core, disassembling it, cleaning all the components, and then subjecting the components to a careful inspection process. Some components can be used again without any problems, other components may need some rework before use, and items like seals and gaskets are always replaced with new ones.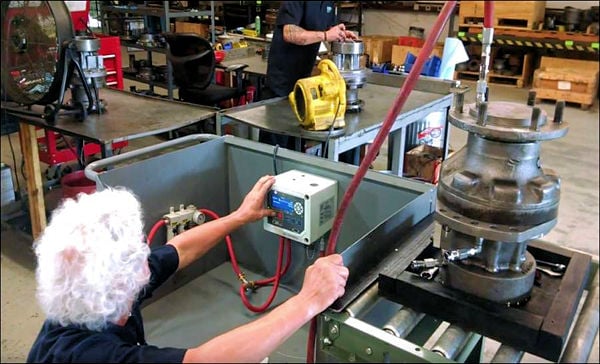 We then reassemble the T190 final drive and send it to our Quality Assurance department for pneumatic leak testing and performance testing. Once it passes all of our performance tests, we proceed with painting and shipping preparations. We are so certain of the quality of the final drives we re-manufacture that we offer a one-year warranty on parts and labor. We are committed to quality and customer satisfaction.
Conclusion
Many machine buyers run into trouble when they can no longer purchase the parts they need for the equipment they own. However, this isn't the case for the Bobcat T190. Reman drives are an excellent option when you need to replace your final drive. Call us today so we can help you find the final drive solution that you need!
---
---
Texas Final Drive is your partner in providing new or remanufactured final drive hydraulic motors from a single mini-excavator to a fleet of heavy equipment. Call today so we can find the right final drive or hydraulic component for you, or check out our online store to find your O.E.M. manufacturer brand motor now.