Diesel prices have been rising, and while they may seem to be going down a bit, it's doubtful they'll drop back down to what they were a year ago. As a result, these prices are impacting your bottom line. And while you don't control the cost of fuel, you can make some changes that will improve the efficiency of your equipment.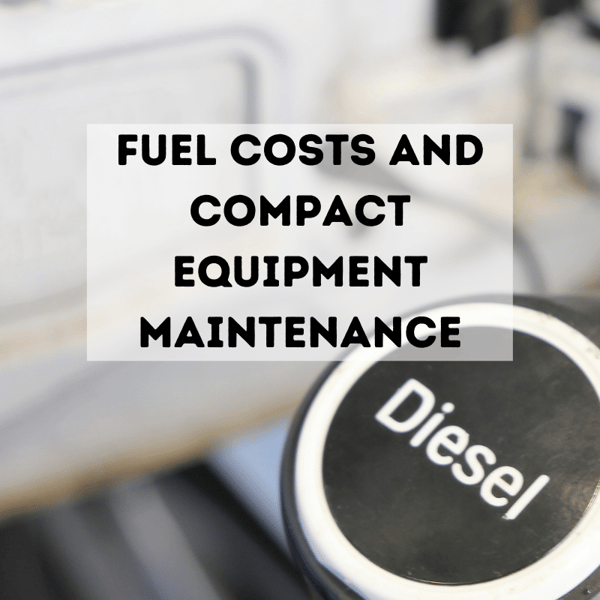 According to the US Energy Information Center, the cost of both diesel and gas has risen dramatically over the last year. Just looking at on-highway diesel fuel prices below illustrates how significant that change has been. After a while, those fuel prices will start nibbling away at your profits. So what can you do to reduce how much fuel you have to use?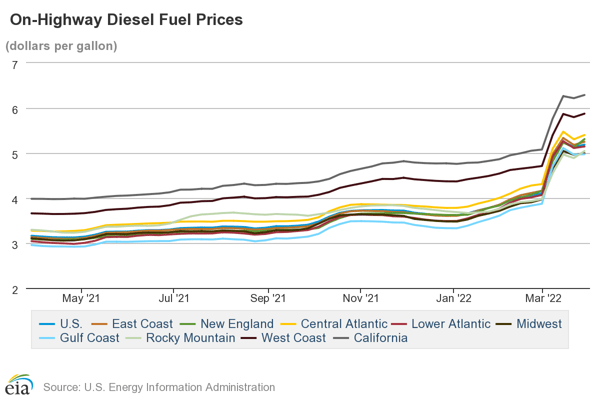 Image source: https://www.eia.gov/petroleum/gasdiesel/
The amount of fuel is closely related to how efficiently your equipment operates, and that doesn't just mean what type of engine you have in your skid steer. If you've got a worn-out pump or final drive motor, it will not operate as efficiently. It's just going to take more power to get the same results.
And when inefficiency begins to affect how long it takes to perform tasks, it's also going to start increasing the hours it takes for a job -- and that's never good.
How Inefficiency Impacts Fuel Costs
One way that you can tell energy is being wasted is overheating. For example, a final drive running too hot means that the power that should be going into generating torque is going somewhere else. Common causes are having too little gear oil on the planetary side. Not enough gear oil leads to friction (and the generation of heat from that friction), which has to be overcome for the gear system to do its job. That's going to contribute to the inefficiency of your machine. Overheating in a final drive can also be caused by brakes that aren't fully released. When those brakes don't release, your drive motor struggles against them to move.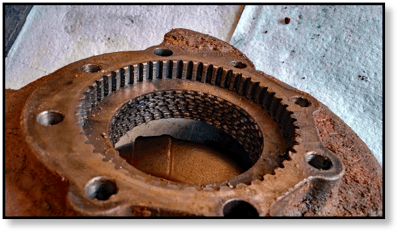 Problems with the bearings in your machine, whether its the final drive, boom, swing motor, or lift arms will also contribute to reduced efficiency. Anti-friction bearings are supposed to reduce friction, but as they wear out, they can increase friction and cause other types of damage. Plain bearings support and guide components like shafts as they rotate. When those bearings begin to wear or don't have enough lubricant, it becomes harder for shafts or pins to rotate.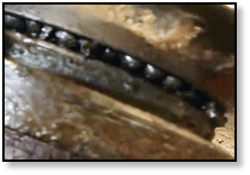 The tracks on a CTL, MTL, or excavator can also decrease the efficiency of your equipment. They can become laden down with dried debris, have rocks or other hard objects trapped within them, or have issues with the tension.
---

---
Routine Maintenance for Your Equipment
According to Equipment Journal, compact equipment is already more efficient than its full-size counterparts. But that benefit can be lost if routine maintenance isn't performed. And final drives aren't the only aspect that impacts the efficiency of your compact equipment.
Regular maintenance of your skid steer loaders, compact track loaders, mini-excavators, and other machines is critical. Keep in mind that the manufacturer's recommendations for scheduled maintenance are intended to keep your equipment running at optimum efficiency and performance.
Here are is a sampling of manufacturer resources on the subject:
Compact Equipment also has an excellent article on general skid steer maintenance and one on mini-excavators, as well. In addition, we have a blog post on skid steer loader maintenance. Equipment world has an article dedicated to CTL maintenance. And we've got a blog post on undercarriage maintenance.
Regular Maintenance for Your Final Drive
Here are some of our articles dedicated to final drive maintenance:
Conclusion
Every time you take the time to maintain your equipment, whether it's changing the gear oil in your final drive or cleaning the tracks, you are investing in its efficiency -- and that will have a positive effect on your fuel costs.
---
---