If you follow our social media, you've probably noticed there are certain sources we depend on for the latest information related to equipment, construction, and material handling. Here is an introduction to our five favorite websites.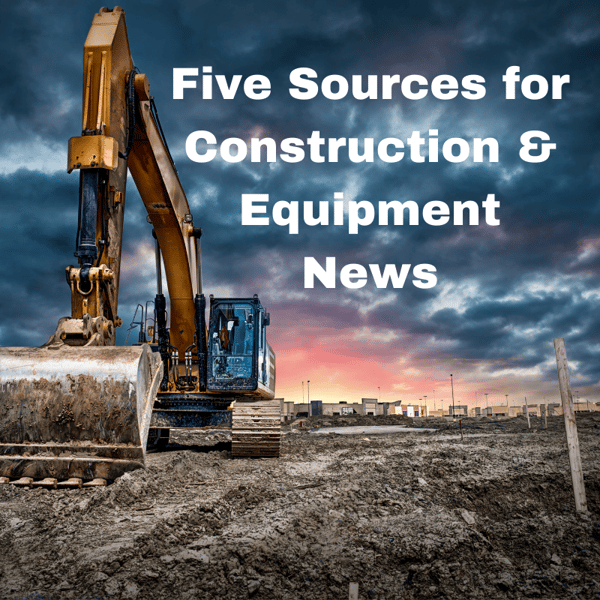 ---
Here are a few Shop Talk Blog posts you might find interesting ...
There are five websites that we check on a regular basis to see the latest news, reviews, and announcements about hydraulic equipment and the industries that depend on it. Here's a list of them and why we find them so useful.
Construction Dive
Construction Dive provides news stories that cover a variety of subjects related to construction, including infrastructure projects and legal issues. It also deals with the impact of national and international politics on the construction industry in general. In addition, Construction Dive offers key data and statistics related to construction that is updated twice a month. And don't forget the library of webinars and playbooks that is available for free.
Construction Equipment Magazine
To stay on top of the world of construction equipment (including compact equipment), check out the website for Construction Equipment Magazine. Their articles include evaluations and videos related to new equipment releases, as well as a Top 100 List of New Products. The information they provide helps readers make smart choices when either purchasing or renting construction equipment. And don't forget their section on Historical Equipment for those who worked with older machines or are just interested in learning more about them.
Equipment World
Another favorite source for news and information is the website for Equipment World Magazine. Their range of topics includes everything from heavy and compact equipment to articles of interest to the operators who run the equipment. They also make available a great deal of safety information and articles related to the business side of equipment. In addition, they cover hydraulic equipment used in a variety of industries, including forestry, material handling, and demolition. Equipment World provides an excellent overview of a range of equipment and industries.
Compact Equipment Magazine
The website for Compact Equipment Magazine contains a treasure trove of information related specifically to compact equipment. This includes videos, reviews, and news related to equipment, dealers, and the construction industry. There are also special sections dedicated to skid steers, compact excavators, attachments and other categories of equipment. In addition, they provide practical discussions on topics such as renting equipment and implementing the latest software. On their website, you can also find out how to obtain a free subscription to the physical copy of their magazine.
Construction Junkie
Construction Junkie is an excellent mix of news related to the business, political, and high tech side of construction tools. Articles and blog posts include topics such as construction safety, gift guides, and construction-related software. Construction Junkie also has a free Job Board available. Their articles are always interesting to read and quite informative.
Conclusion
Do you know of any other good sources for information about hydraulic equipment and the construction industry? If so, drop the link in the comments below!
---
---