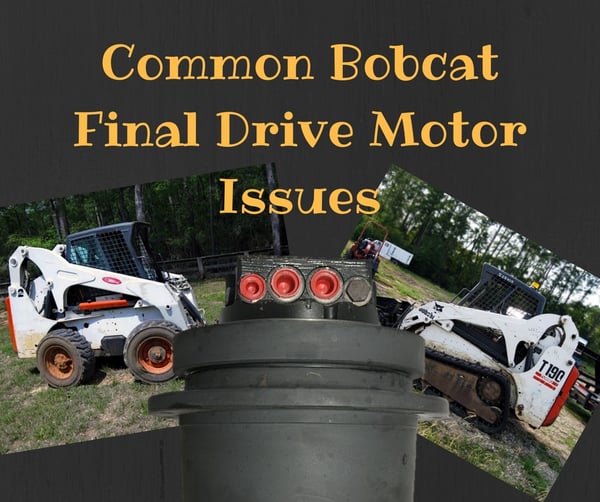 Here at Texas Final Drive, we troubleshoot, repair, and remanufacture many final drives that come off Bobcat machines. In this Shop Talk Blog post, we are going to discuss some of the most common issues with Bobcat final drive motors, including main bearing failure, case drain issues, and charge pump problems.
---
Here are a few other related posts that you may find helpful ...
Main Bearing Failure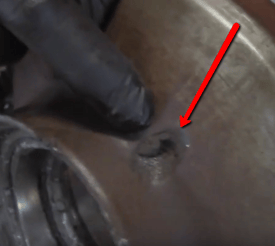 Bearings have a limited life, but there are ways to keep them from failing prematurely. Once of the most common causes of premature bearing failure in Bobcat final drive motors is failure to change or even check the bearing oil for the main hub. In the picture shown, you can see one of two drainage holes for hub bearing. They are often covered up with dirt and debris, and we suspect that some final drive owners may not be aware they are there.
The oil for the hub bearing needs to be checked and changed about every 500 hours. If the levels run low, the failed bearing can quickly take out the rest of the final drive motor. If the oil looks "glittery" when you change it out, that likely means you have a bearing that is already tearing up.
The usual steps that lead to main bearing failure start with a leak in the main seal, which allows the bearing lubricant to leak out. As the hub bearing oil begins to run low, the bearings begin experience damage. The effects of the damage have a domino effect, and your entire final drive can be irreparably damaged. The picture you see below shows the aftermath of a main bearing failure.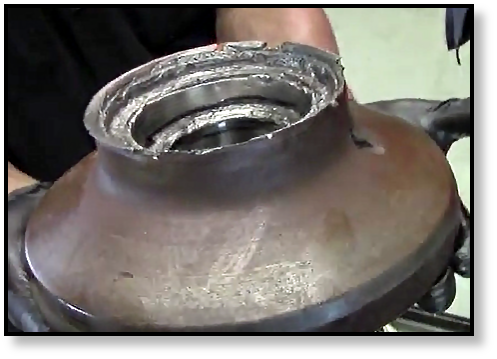 Case Drain Issues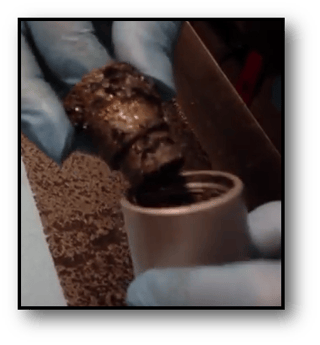 Another very common source of problems for Bobcat final drive motors involved clogged case drain filters. When the filter clogs up, hydraulic fluid backs up into the final drive motor. This results in high pressure.
The pressure continues to build as case drain flow is blocked by the clogged filter. The oil seal eventually fails, allowing hydraulic fluid and gear oil to mix.
The damage from a clogged case drain filter can be extensive as pressure continues to build. It is not uncommon to see rotator groups that look like they've been blown apart, bearings in pieces, and a cracked or missing cover plate.
This can be prevented by replacing the whenever you replace the other filters. A clean case drain filter will be bronze in color. If it is dark or dirty looking, it needs to be replaced. Cleaning a case drain filter isn't recommended -- replace it if you have any doubts.
If you experience a final drive failure or a pump failure, it wouldn't hurt to change out the case drain filter as a precaution.
Charge Pump Problems
Too many times machine owners replace a final drive assuming it is the source of the problem when the issue really is the charge pump. If your Bobcat machine has a weak charge pump, it can cause damage to your final drive if the brakes don't completely release. Your motor may seem weak or your Bobcat machine may steer to one side. If the charge pump is not replaced, it will damage your final drive motor.
Conclusion
Bearing failures, case drain issues, and charge pump problems are some of the common issues that Bobcat final drive motors seem to have in common. The good news is that they can usually be prevented by regular maintenance.
---
Texas Final Drive
is your partner in providing new or remanufactured final drive hydraulic motors from a single mini-excavator to a fleet of heavy equipment. Call today so we can find the right final drive or hydraulic component for you, or check out our online store to
find your O.E.M. manufacturer brand motor now
.
---