The Bobcat RougeX is a new autonomous or remote-control concept machine that will eventually serve as a fully electric track-loader platform.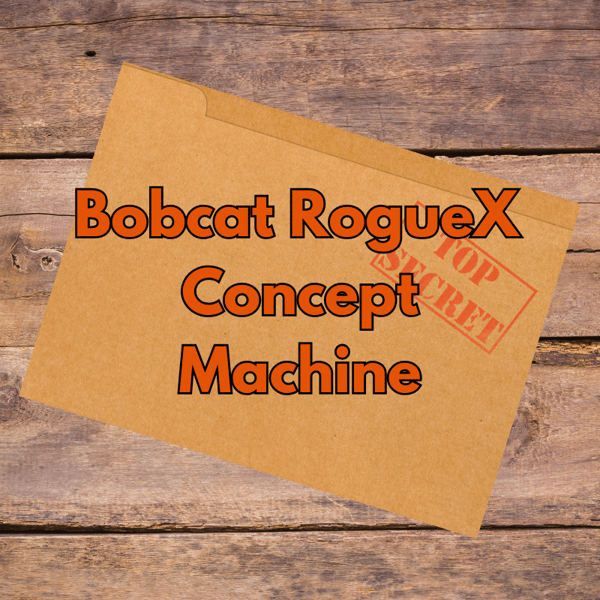 ---
Here are a few other Shop Talk Blog posts you might find interesting:
We are all fascinated by concept designs -- a glimpse into what could be the future -- and the Bobcat RogueX is certainly no exception. The Bobcat RogueX was introduced at CONEXPO/CON-AGG 2023, along with the fully electric Bobcat S7X skid steer loader. Bobcat's goal with developing the RogueX is to help customers achieve better efficiency, productivity, and success. It's also worthy of mention that this isn't the first remote-controlled CTL we've talked about on the Shop Talk blog: Built Robotics is one of the early researchers we followed.
Autonomous / Remote-Controlled
The primary driver behind the RogueX was the need for solutions that didn't require an operator in the seat but could be controlled remotely or autonomously instead. And that should come as no surprise given the growing market for autonomous construction equipment.
This approach to a CTL allows it to be used where it might be too hazardous or difficult for human operators to be inside a cab. Combined with other technology, such as overhead views, it would also support better situational awareness for operators controlling it remotely. The autonomous mode has the potential to develop optimized approaches for tasks, which in turn increases productivity and power efficiency. Some experts also point out the shortage of qualified, experienced heavy and compact equipment operators as a driver behind the move toward autonomous equipment.
Bobcat already has remote control kits that are compatible with loaders that have a Selectable Joystick Control. The RogueX, however, uses a very different remote control setup that shows the CTL being operated from an app on a smartphone. In short, this is not a retrofit of Bobcat's current remote control technology but rather a totally new approach.
Universal Electric Platform
Bobcat intends for the RogueX to serve as a universal electric platform with tracks that supports attachment swapping. In fact, the loader arms and bucket shown in images and videos from Bobcat are actually an attachment. Bobcat indicates that it can be used for a wide variety of tasks depending on the attachment chosen.
From HowIDidIt on YouTube -- be sure to subscribe!
New Ways of Lifting Loads
In some ways the Bobcat Rogue looks like a traditional CTL, but one immediate difference is the lack of a cab for the driver (as mentioned earlier). Without a cab, Bobcat was able to explore some new ways of lifting the bucket. The version unveiled has a bucket attachment with two lifting arms along with the central arm (which is a permanent part of the machine) attached at the center of the bucket. It appears that all three arms do have actuators. In addition, loads can be raised/lowered using either vertical-path or radial-path lifting thanks to advanced kinematics and the lack of a cab. Also, note that the version unveiled at CONEXPO has bright lights attached to either side of the central arm.
Fully Electric
The Bobcat RogueX is fully electric in every sense of the word. While the fact that it has no hydraulics makes us a little sad, but we still think it's an awesome machine. Also, it is currently powered by Lithium-ion batteries providing 60 kW (which is expected to increase) and is zero-emission, making it environmentally friendly. However, being fully electric does limit how long it can be used before a recharge is necessary.
Conclusion
The Bobcat RogueX is still in the early R&D stage, so no one will be buying one any time soon. However if you need a final drive motor in the meantime, we've got your back!
---
---