Sometimes the most economical option is not to replace your final drive with a new or non-OEM drive but to rebuild your existing drive. In this Shop Talk Blog post, we are going to talk about a recent JCB 190T final drive motor that we rebuilt here at the shop.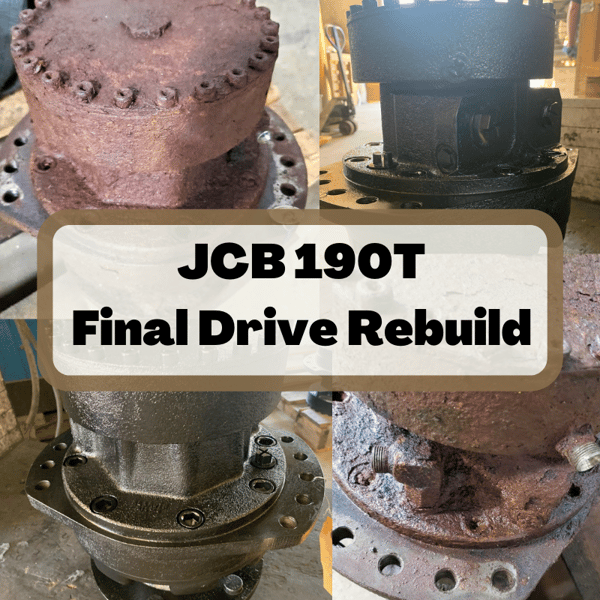 ---
Here are a few other blog posts you might find of interest:
Rebuilding a JCB 190T Track Drive
Here are Texas Final Drive, we recently rebuilt a JCB 190T final drive motor for one of our customers and were so pleased with how it turned out we decided to share the results with you.
JCB 190T MTL
The JCB 190T is a tracked machine known as an MTL, or multi-terrain loader. Because of how their undercarriage is designed, MTLs differ significantly from CTLs. For example, they have a much lower ground pressure, the tracks remain in contact with uneven ground better, and they can work on very delicate surfaces. However, they are not designed as ruggedly as their compact track loader counterparts.
When we receive a final drive motor, it's never a pretty sight. They are invariably covered in a build-up of scale and rust, just like the JCB 190T final drive you see below.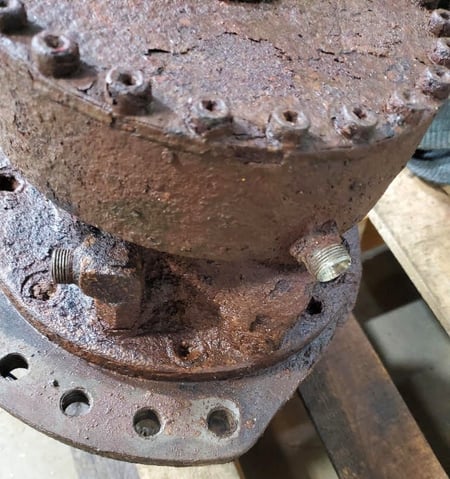 You'll notice that the cleanest area on it happens to be where the hydraulic lines connected to the ports.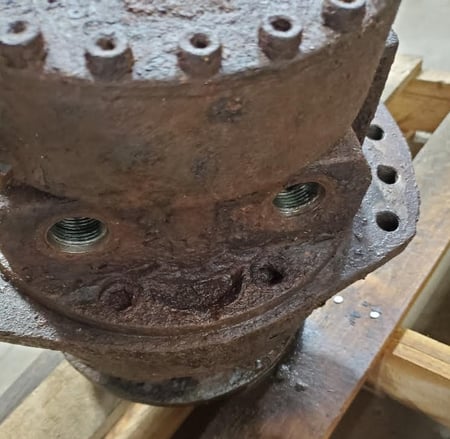 This is a good illustration of why our first step, after logging your final drive motor into our system, is to clean the exterior. If we open up your JCB 190T final drive motor in this condition, we'll introduce contamination into the system that could cause some serious damage beyond what may already be present.
Texas Final Drive Rebuild Process
The rebuild process here at Texas Final Drive involves ten steps:
Receipt of core, where your drive is logged into our system
Final drive preparation , which includes removing the hardened material buildup on the outside of your drive using a needle scaler
Wash the core

,

which uses a steam wash cabinet to remove all grease and other materials
Abrasive cleaning, which involves sandblasting to remove even the paint from your final drive motor
Disassembly, which includes discarding parts like seals and gaskets that will have to be replaced
Parts cleaning, so that all scaling, grease, and other materials are completely removed either by hand or using a parts wash cabinet
Transfer and Assembly, where the parts are transferred back to the assembly area, inspected and graded, and the final drive is re-assembled (and parts that do not make the grade are either replaced or re-manufactured)
Quality control

,

which includes leak detection, calibration inspection, and performance testing as well as documentation of all test results
Painting, where the core is painted after one more external wash
Packaging and shipping of a final drive that not only looks brand new but runs like it's brand new
Rebuilt JCB 190T
As you can see below, the final drive motor for the JCB 190T was completely restored using the 10-step rebuild process just described. And it was fully tested for leaks and performance to ensure that it meets our high standards of quality. Once complete, it met or exceeded OEM specifications.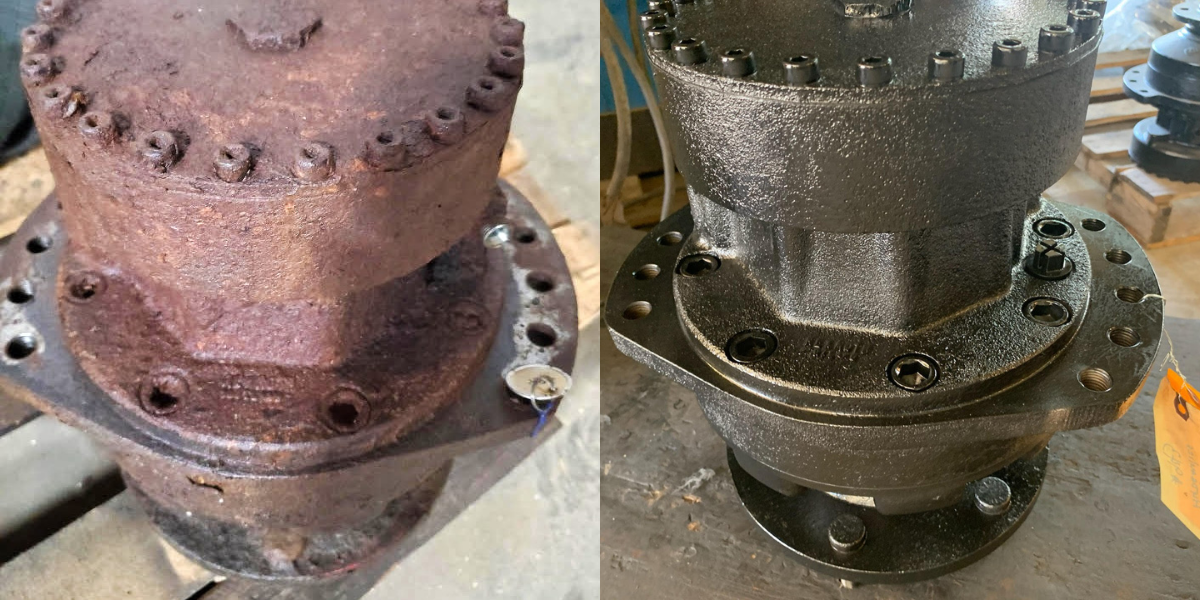 Conclusion
Our team here at Texas Final Drive was proud of how this final drive motor turned out and we're sure our customer will be happy, too. If you are interested in having a final drive motor rebuilt, or purchasing a rebuilt motor, contact us here at Texas Final Drive.
---
---