JCB has been a well-known manufacturer of construction equipment for many years. Like any company, it has some interesting facts in its background. For this Shop Talk Blog post, we'd like to share some of the cool things we found out about JCB during our research -- including how JCB is connected to the Teletubbies ...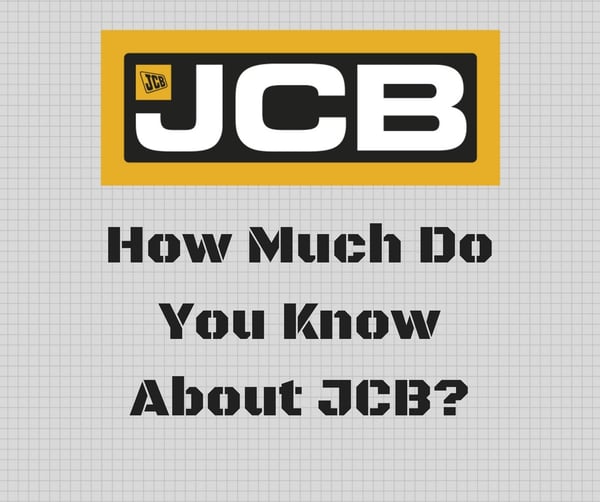 ---
Here are a few more Shop Talk Blog posts that might be interesting to you ...
Founder of JCB: Joseph Cyril Bamford
Most people don't realize that JCB stands for J.C. Bamford Excavators Limited. JCB is one of the three largest construction equipment manufacturers in the world and it was named after its founder, Joseph Cyril Bamford. Bamford was an World War II veteran, British engineer, and businessman. He built a construction equipment empire based on hard work, innovation, and investment in ever-evolving manufacturing technologies.
Besides being a talented engineer, Bamford had a natural flair for effective, memorable marketing. For example, he was responsible for the iconic black and yellow color scheme adopted in 1951. He was also the mind behind the famous "JCB Dancing Diggers." In England, JCB is so well known that it is slang for just about any type of engineering or construction vehicle.
Early Years of JCB
This British company was founded in 1945 in Staffordshire, England and had its start in a 10' x 15' garage (after Bamford finished an unsuccessful stint working for his father's company and then selling Brylcreem). Undaunted by previous failures, Joseph Bamford began by manufacturing agricultural tipping trailers (one at a time, by himself) and selling them at a local market. Three years later, he had 6 employees and they began manufacturing hydraulic tipping trailers called Si-draulics. From there, company grew into a world leader in construction and agricultural equipment.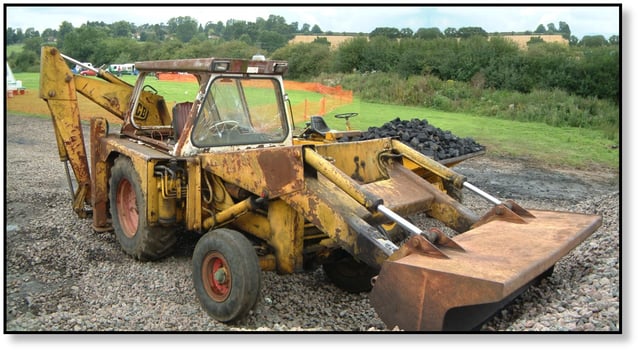 JCB Products and Product Lines
Major equipment developments made by JCB include the Major Loader in 1949 and their backhoe loader in 1953, the "hydra-digga" combination hydraulic excavator and loader, the Loadall forklift, the Fastrac high speed tractor in 1990, and the Loadall telescopic handler. JCB acquired Vibromax in 2005, adding compactors to their already extensive line of products. Their one millionth machine was built in 2013, a significant milestone in their company's growth.
Their current product line includes backhoes, excavators, compact excavators, compact track loaders, tractors, articulated telescopic handlers, skid steer loaders, wheel loaders, and wheeled excavators. JCB serves several different industries including construction, agriculture, demolition, government, and defense.
JCB Logo
The original JCB logo first appeared on their equipment in 1953, and in 1960 an extra key was added to the company's typewriters so that the logo could be rendered more accurately. The original logo was angled 18 degrees from the horizontal and 22 degrees from the vertical.
JCB in Popular Culture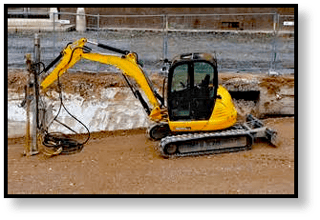 In Wikipedia's article on the JCB company, a fascinating list of JCB's appearances in modern pop culture is provided. JCB machines have appeared in TV series like Teletubbies, Top Gear, and Primeval. They have been immortalized in at least three different songs and appeared in a music video. There is even a Lego Technic JCB backhoe model. JCB also has a kid's website, JCB Explore … most unusual for a construction equipment company.
Conclusion
JCB is known around the world for its powerful, quality construction and agricultural equipment. Growing from a small one-man production shop in a garage to a worldwide competitor in one lifetime is an amazing task, and reflects the company's values.
---
Texas Final Drive is your partner in providing new or remanufactured final drive hydraulic motors from a single mini-excavator to a fleet of heavy equipment. Call today so we can find the right final drive or hydraulic component for you, or check out our online store to find your O.E.M. manufacturer brand motor now.