Want to learn something new about Kubota? Here are some cool things our research uncovered, from cholera to steel rolling mills.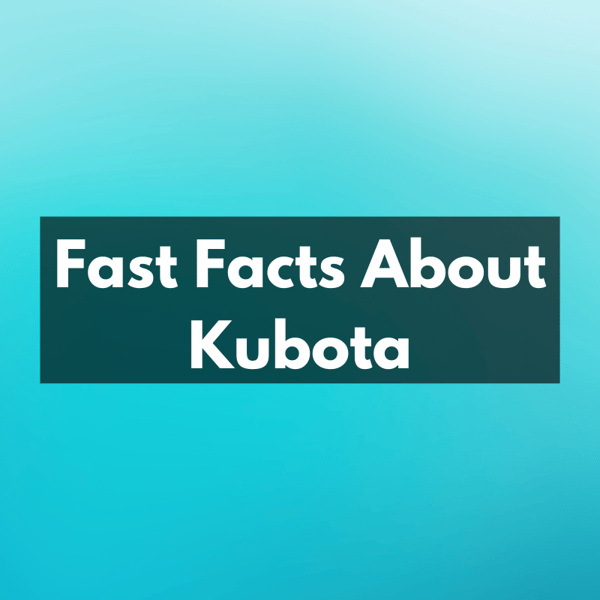 ---
Here are a few other blog posts you might find of interest:
Kubota is a globally known manufacturer of high-quality compact equipment, including tractors, tractor loader backhoes, compact excavators, skid steer loaders, and compact track loaders. But how much do we really know about Kubota?
Metal Casting and Cholera
Gonshiro Ohde (at only 19 years old) founded Kubota in 1890 in Osaka, Japan. Ohde specialized in metal casting and machining, and soon his talent and hard work paid off. One of his early successes was the domestic mass production of iron pipes. These were in high demand as Japan sought to build a system to deliver much-needed clean water to help stop the spread of Western diseases such as cholera. Trying to cast these pipes in a fast, efficient manner was extremely difficult, and at the time Japan had to import them. Ohde was determined to find a manufacturing method, and Kubota continues this tradition of successful innovation in casting methods to this day.
Ohde Gets Adopted
So if the founder of Kubota was named Gonshiro Ohde, why is the company named Kubota? One of his early customers owned the Kubota Match Machine Manufacturers, run by Toshiro Kubota. An extremely successful businessman and engineer, Kubota took an interest in Ohde and began to serve as his mentor. Eventually, Kubota wanted to adopt Ohde who agreed with one condition: he would be able to continue working with pipes. Once the adoption was complete, his name was changed to Gonshiro Ohde and the Ohde Casting Iron Works became Kubota Iron Works.
Vending Machines
In the 1960s, Kubota entered the vending machine market. Their first vending machine involved weight: put a coin in, stand on the base, and you'd receive a printed ticket with your weight on it. They also made milk bottle vending machines, which involved some challenges with keeping milk at a safe temperature -- challenges, needless to say, Kubota met head-on. They also manufactured tobacco, food, and drink vending machines. However, as of 2017, Kubota withdrew from the vending market.
From Scales to Sewage Treatment
In addition to vending machines and equipment for construction and agriculture, Kubota makes an impressive range of products. These include equipment for water purification and sewage treatment, irrigation, and air conditioning. Kubota still specializes in pipes, valves, pumps, and metal casting. Also in their product portfolio, you can find weighing and measurement systems along with engines and environmental equipment. And don't forget that Kubota (using its long history of metal casting) manufactures HSS tool steel rolling-mill rolls for working with metals.
Compact Excavators
It was in 1974 that Kubota introduced the world to a fully rotating compact excavator: the 2.5-ton Kubota KH1 and first of the K series excavators. Its success led to Kubota creating its construction machinery division. But back to the KJ1: these excavators were so well built that you can still find them running!

Conclusion
We hope you learned something new about Kubota -- If you'd like to learn more, visit Kuobta's Virtual Museum. Here at Texas Final Drive, we work on our fair share of Kubota track drives -- if you need a Kubota final drive, let us know!
---