In this Shop Talk Blog, we're going to look at some of the techniques we use for rebuilding and repairing final drive motors, including welding and machining.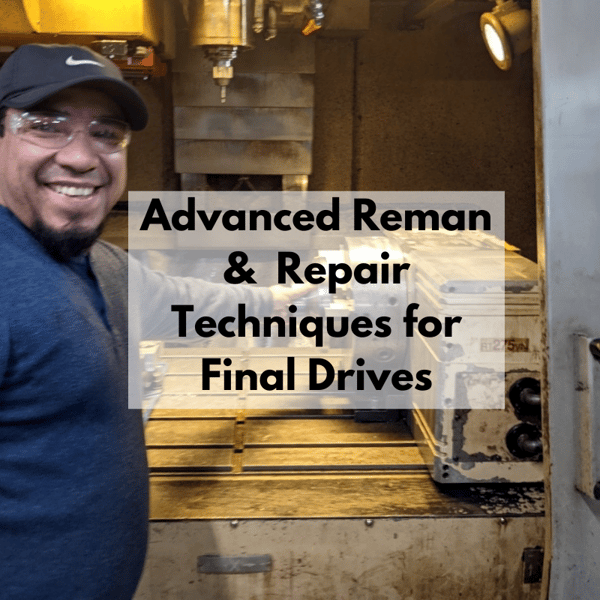 ---
Here are some other Shop Talk Blog posts you might enjoy:
Sometimes, a final drive motor component may appear badly damaged, but it's still possible to restore. In other cases, an OEM replacement part might be expensive or not in stock -- but can easily be manufactured in-house with the right equipment. So let's take a look at some of these techniques and how they can benefit you.
Welding and Turning
Some areas can be built up with welding, then turning on a lathe is used to restore that area to OEM dimensions. For example, the inner race of the main bearing on the inner hub on some final drives has a top shoulder. Suppose it becomes severely damaged. In that case, one of our certified welders can add the needed material, and then our machinist will turn the inner hub on a lathe to restore the shoulder to OEM dimensions.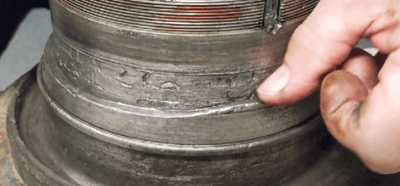 It's also possible in some instances to build up the face seal groove if it's been damaged. The surface and dimensions can then be finalized by turning in both cases. The same is also true for the bearing posts and bosses for the planetary gears.
Within the gear hub, a common area of damage is where the planetary reduction gears fit onto the drive. It's not uncommon to see the posts and bosses looking chewed up from metal to metal contact, like the one shown below.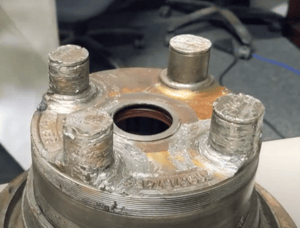 This can be repaired. And the good news is that, when is weld is performed correctly by a skilled welder, it will be every bit as strong as the base material involved.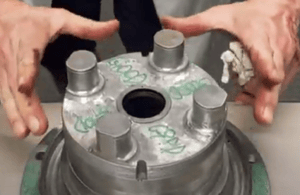 Machining for Hubs and Housings
Sometimes the hub is badly damaged. We can make our own in-house for the hub of some final drive motors, such as Bobcat T300s and T190s. We've tried casting followed by milling and turning, but we just weren't satisfied with the results of metal casting.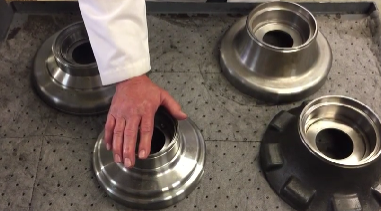 Eventually, our machinist started using a combination of CAD/CAM with CNC machining (milling and turning) and turned to create a new one from a steel billet. This one would be strong, durable, and surpass the original OEM standards. We also do the same for main housings, such as the Deere 332 discussed earlier.
Imperfections such as marks, gouges, divots, dents, and scratches can often be removed using a lapping table that uses fine abrasive slurry to restore metal surfaces. For example, the lapping table can be used on components such as the rotating group (including the distributor) in a Bobcat T180/T190/T300 final drive motor to remove surface imperfections and restore flatness. Again, this is a fast (around 23 minutes) and effective solution that is much cheaper than buying a new distributor.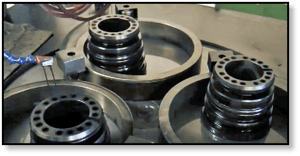 ---

---
Machined Locking Nuts
We also manufacture our own locking nuts for drive motors like the John Deere 332. Once one of these nuts is torqued into place, lock pins are used to secure it. Unfortunately, nine out of ten times, those locking nuts are destroyed when they're removed. Finding an OEM replacement lock nut can be really difficult because the OEM doesn't always stock them consistently and they can be a bit expensive.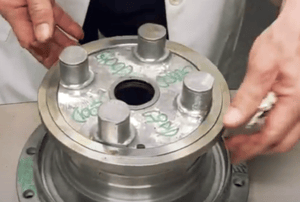 We design and manufacture our own (see the image above), making them much easier to cut and remove -- but that's not all. By making our own, we can expedite the repair/reman process and reduce the costs passed on to you.
Conclusion
At Texas Final Drive, we don't look for the easiest fix when it comes to repairs and remans. We look for the one that will last you the longest and keep your costs down. If you need a final drive repaired or rebuilt, or you're looking for a good price on a final drive replacement, contact us today.
---