Is there a problem with the charge pump?
Is the machine trapped in high speed mode?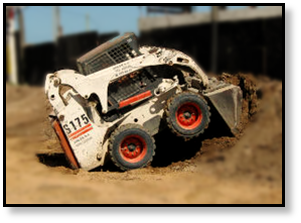 Are the final drives/track motors receiving the correct hydraulic pressure and flow?
Is there back pressure, or a blockage in the motor case drain line?

Are the tracks too tight?

A Word of Caution
Replacing a final drive without making sure that it is the problem will only mean more downtime and the potential for irreparable damage to the new final drive. If there is something wrong with your final drive, always address external causes before installing a new, reman, or rebuilt final drive motor. If you aren't sure whether it's the drive or not, describe the symptoms to an expert and get a second opinion.
---
Texas Final Drive
is your partner in providing new or remanufactured final drive hydraulic motors from a single mini-excavator to a fleet of heavy equipment. Call today so we can find the right final drive or hydraulic component for you, or check out our online store to
find your O.E.M. manufacturer brand motor now
.
---