In this Shop Talk Blog post, we are going to talk about a common cause of failures in CTLs and skid steers and how to prevent it. As part of this case study, we will be specifically discussing CAT 246 skid steer hydraulic motor and brake assembly that was sent in to us for diagnosis.
Final Drive Motor Background
This particular unit we received in as a core just a few weeks ago. The customer reported that the motor was weak, which can be caused by quite a few things -- and not all of them are due to the final drive itself. In this particular case, we discovered that the final drive was not the culprit.
The Damage to Final Drive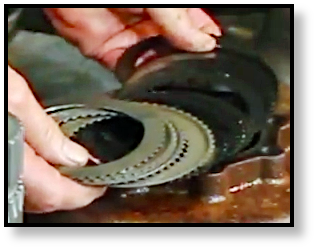 After the cleaning the exterior, we began disassembly followed by cleaning the parts. From there we performed a careful failure analysis. One of the first things our technicians noted was the condition of the brake discs: burned, scratched up, and broken. This indicates a brake problem, and not a weak motor problem: the brake was not fully releasing. Sadly, this resulted in serious damage that could have been prevented if the owner had known what to look for.
In addition,you can see in the image below that as the brakes were dragging (and the machine was still running), the splines on the brake housing were seriously damaged. They are severely scarred and damaged beyond reasonable hopes of repair.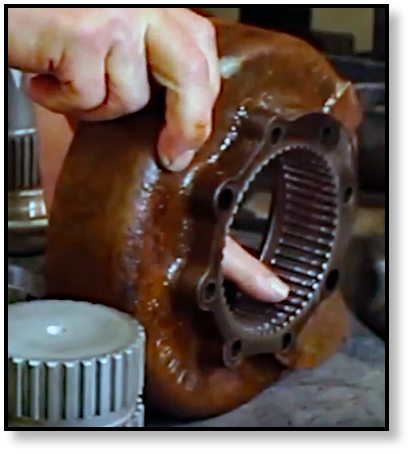 This is a commonly encountered problem for skid steers and CTLs. These images are from a CAT 246 skid steer hydraulic motor. You can clearly see the damage done to the splines in the brake housing, not unlike those in the previous images. They are severely scarred, and in some places entire chunks of metal are missing. Those slivers and chunks of metal have to go somewhere in your system, so you can image the secondary damage that will result.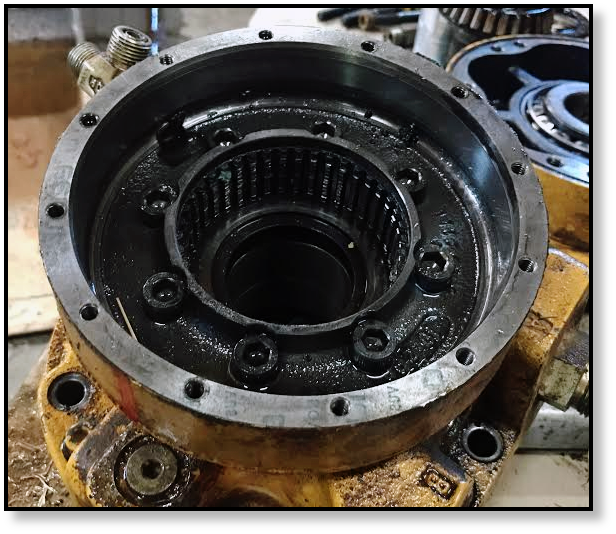 While the examples we used for this post are from CAT machines, this type of damage can occur on any kind of equipment with this type of setup, from a New Holland SSL to a Terex CTL. In short, a bad charge pump can result in something wrong with your final drive.
---
Damage to your New Holland Skid Steer Loader hydraulic drive motor? Check out the latest inventory of reman hydraulic drive motors from Texas Final Drive.
---
Potential Cause: Weak Final Drive?
What the customer thought was a weak final drive turned out to be an issue with the brake not releasing properly. As this went on unaddressed, it caused severe damage to the brake discs and the brake housing.
Typically, these types of failures are caused by leaking brake seals or a weak charge pump. Remember that the charge pump provides the pressure needed to release the brakes and help prevent freewheeling. In this case, our inspection of the damage indicated it was a weak charge pump. That means that even if they replaced the final drive with a brand new one, the same problem would occur and damage the new final drive.
Mini Excavator Symptoms
Here are the symptoms associated with this type of a failure:
Resistance noticed on the controls
High pitched squealing coming from the final drive motors
The machine will no longer move
By the time the machine refuses to move forward or backwards, the damage is likely irreparable and the final drive will need to be replaced. Be on the lookout for these signs of a weak charge pump!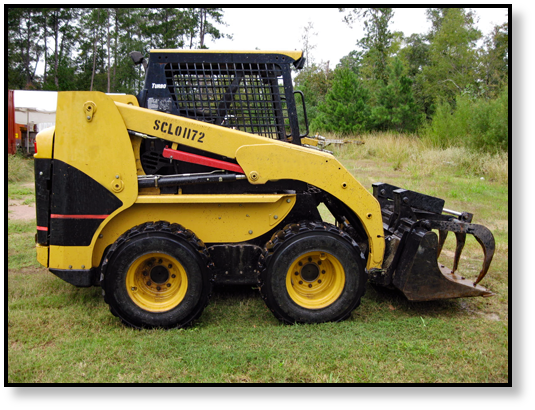 Here's the bad thing about charge pump failures: you can replace the final drives with new or re-manufactured drives only to have the same thing happen again. That's why it is important to eliminate the other possibilities before you send in your final drive or travel motor.
Checking the Pump Pressure
If you are experiencing the symptoms described above (resistance to controls, squealing motors, or a machine that will not move), then take the time to check the charge pump/gear pump pressure before you assume it is a final drive failure -- and before it does become a final drive failure.
If you do not already own a service manual for your machine, obtain one. In the section dealing with the gear pump/charge pump (possibly under hydraulic charge pump pressure) you will find the information you need on how to check the pressure so you can determine if the problem with your machine is the final drive(s) or the charge pump. It will tell you what the pressure should be on your particular machine; keep in mind that every machine is going to have different pressure readings, so you need to have the service manual for your particular machine for reference.
$1000 Savings Simple Step- Check Charge/Gear Pump
If your final drive motor seems weak, don't forget that it might be a problem with a weak charge pump. Before you pull your final drive to send it in for repair or reman, take a little while to verify that your charge pump is working correctly by checking the pressure coming out of the charge/gear pump. This simple step could save you thousands of dollars!
---
Need more help, check out this free Final Drive Motor Overheating Troubleshooter Guide provided by Texas Final Drive.