Hydraulic motors help to power cotton harvests in more ways than you may realize.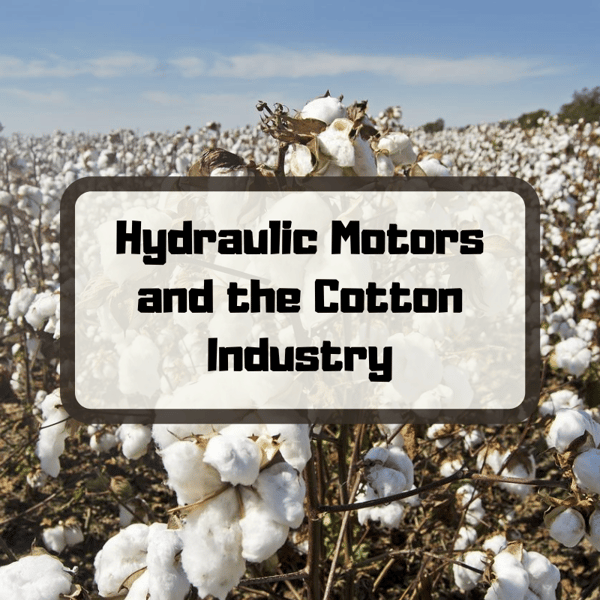 ---
Here are some other Shop Talk Posts you might be interested in ...
Cotton Fields Need Hydraulic Power
A recent trip near Corpus Christi, Texas led us through an area of Robstown where cotton harvesting was in full swing. It was amazing to watch the massive cotton harvesters at work in white fields. They slowly made their way through multiple rows of cotton, leaving behind almost empty stalks in their wake. Several hours later, driving back through, we saw the empty stalks had been cut down and large, round bales of cotton (dubbed marshmallows by my friend) were out in the empty areas of the fields.
Modern Cotton Farming
At least in the United States, most cotton farms use some type of cotton harvester, though the size and complexity may vary. While John Deere has some models that seem almost all in one (cotton stalks seem to go in the front while massive round bales exit the back), other models focus more on harvesting with supporting equipment to compact the cotton and manipulate it into bales. In the days of my great-grandparents, who were share croppers in the northeast part of Texas, not all farms could invest in expensive machinery to expedite their cotton harvest.
Wheel Motors for Cotton Harvesters
Its not unusual for a cotton harvesters or pickers to have multiple final drive wheel motors to achieve all-wheel drive for difficult field conditions, and it takes some torque to keep those machines moving, especially when they have a full load of cotton (which can easily weigh in the tons).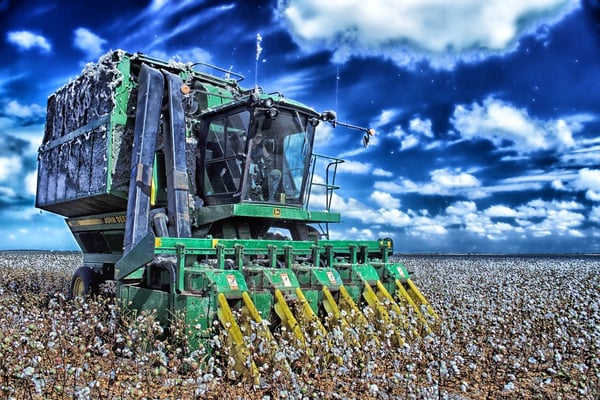 Image courtesy of Pixabay
Hydraulic Motors and Cotton Harvesters
However, that's not the only place where hydraulic motors are to be found: they are also commonly used to provide power to the rotating bushings and doffers, even though those would be HSLT (high speed, low torque) motors as opposed to the LSHT (low speed, high torque) motors used for the wheel motors.
Hydraulic Power for the Cotton Harvest
Of course, the harvesters aren't the only place where hydraulic motors are involved in harvesting cotton. For example, tractors, skid steer loaders, or compact track loaders with a special attachment may be used used to move the cotton bales to a centralized location for loading so they can be shipped to the gin. And a tractor will likely be used to pull an attachment to remove the cotton stalks so the field can be more easily prepared for planting at a later time.
Conclusion
Even though those massive cotton harvesters may not be used very often, they still need maintenance and that includes the hydraulic motors and the wheel motors. We'd like to encourage you to check the maintenance guidelines from the manufacturer to make sure they are ready to go when the next harvest comes around, and give us a call if they start giving you any trouble.
---
---