---
Small Hydraulic Excavators
Mini-excavators, also known as compact excavators, are small hydraulic excavators valued primarily for their ability to maneuver and function within tight or narrow areas where larger excavators can't.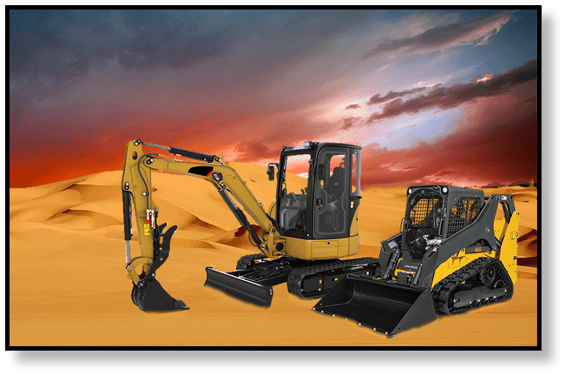 ---
Here are some additional posts from the Shop Talk Blog that you might want to read ...

---
What Is a Mini Excavator?
Mini excavators are tracked machines about the same size as a typical skid-steer but they serve a very different purpose. They include a heavy-duty arm that interfaces with a wide range of attachments (although most frequently shown with a bucket) and a mounted blade. To be considered a mini excavator, the machine will usually weigh less than 10,000 pounds, or 5 tons, although this rule is not strictly followed.
Hydraulic Machines
Mini excavators (sometimes spelled mini-excavators) are fully hydraulic. That means not just the boom and attachments, but the slew and propulsionare hydraulic, too. The tracks, which provide propulsion instead of wheels, are driven by track drives. Track drives are also called hydraulic motors or track motors.

Specifications
Mini-excavators, like their full-size counterparts, are typically differentiated by their power rating, arm force, maximum dig depth, maximum loading height, and maximum dump height.
The power rating refers to the gross engine power. Maximum dig depth refers to how deep the tip of the bucket can reach below the mini-excavator, representing the limit of it's ability to dig below the excavator. The maximum cutting height is the reverse: it represents how high the tip of the bucket can reach. The maximum loading height is similar to the maximum cutting height. The boom is in the same position as it is for the maximum cutting height but the bucket is down as it would be in the case of loading another machine.
---
Texas Final Drive can help when your reman hydraulic travel motor needs with best-in-class products and services. Check out the CAT MTL or CTL Hydraulic Motors we have available.
---
Defining Characteristics
One of the characteristics that makes mini-excavators special is their ability to fit where full-size excavators cannot. This is due to their small footprint and the zero-tail swing that many mini excavators have. The zero-tail swing allows excavators to work very close to existing objects without the danger of hitting them because the housing never extends over teh tracks.
In addition, the combination of their weight with continuous tracks results in very low ground pressure. Very low ground pressure means that they can work on rather delicate ground. At the same time, tracks free them from the limitation of working only on smooth, stable surfaces. This makes compact excavators extremely versatile when it comes to working conditions. Stable, unstable, smooth, or rough, they can handle the terrain.
Finally, don't let their small size fool you, those: these machines fit a great deal of power in a small space.
Brands
There are at least 29 different brands of mini-excavators on the market in the United States today. Prominent brands include Caterpillar, Bobcat, Kobelco, Mustang, Yanmar, Kubota, Gehl, and New Holland,.
Different brands may refer to them by different names. Bobcat, Yanmar, Gehl, New Holland, and Kubota all call them compact excavators. Caterpillar calls them mini-excavators, as does Kobelco. Mustang refers to them as excavators. Another popular term for them is mini-diggers.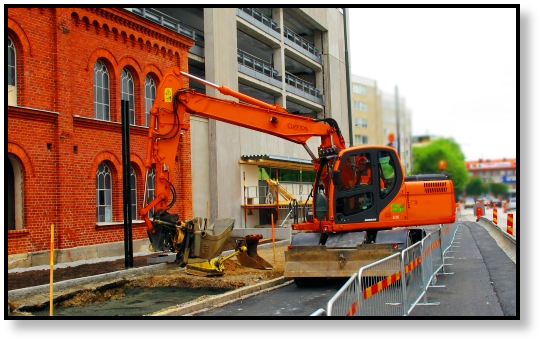 Industries
The wide variety of attachments for mini-excavators means they can be used in many industries and applications. These include forestry, agriculture, landscaping, construction, and plumbing, just to name a few.
Forestry
Mini excavators can be used with processor heads for thinning or grapples for picking up logs. Mini-excavators have also been used to topple over smaller trees. Sometimes mini- or midi-excavators are used with a trailer as a sort of "mini" skidder in forestry. Attachments like brush cutters further extend their usefulness.
Agriculture
There are many specialized attachments that make mini-excavators very useful in farming applications. Bale spears allow bales of hay and straw to be moved quickly and easily. Augers are ideal for digging fenceposts or drilling holes. There are also brushcutters for keeping grass and weeds under control and rake boxes for preparing land or smoothing it out.

Landscaping
Mini excavators are a popular piece of equipment in landscaping because of their ability to flatten landscape, dig irrigation ditches, remove stumps, and dig ponds. As with agriculture, brushcutters can help get overgrown lawns and weeds quickly get under control.
Construction
Mini-excavators are good for excavation (especially digging trenches) as well as demolition. They can do just about anything their big brothers can but on a smaller scale, and can work in places their big brothers simply cannot go.
Plumbing
Their use in plumbing is tied to their ability to dig trenches quickly and effectively. They are used to access pipes or lines for both new construction and repair, including sewer lines.
Conclusion
Mini-excavators are actually stealing part of the market from backhoes because of their versatility and size, and when we see the variety of industries they can be used in it is no wonder.
---
Get your informative free Guide to Mini-Excavators available through Texas Final Drive today!