With Halloween approaching, one thing is on all our minds: zombies! If you want to be ready for the inevitable zombie apocalypse, then you might want to look into some attachments for your skid steer loader. In this Shop Talk Blog post, we are going to talk about how to get your skid steer loader zombie ready!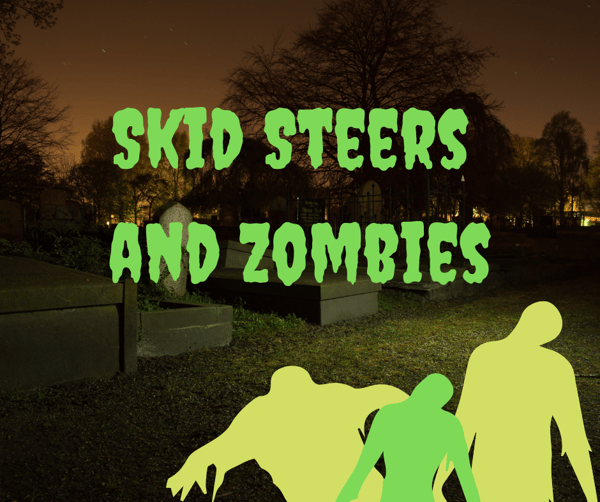 ---
Here are a few more blog posts you might find useful (no zombies, though):
Enclosed Cab
Before you do anything else, make sure your skid steer has an enclosed cab. That will keep those pesky zombies from trying to pull you out or take a bite out of you. You might want to reinforce those windows with some metal bars so that if the glass breaks the zombies won't be able to instantly access you. Of course, this is also good for protecting you from things like flying debris.
And don't disable those safety features -- you have enough danger from the walking dead without being killed in skid steer accident.
Flamethrower!
Before you can put security walls in place around your compound, you need to get those pesky zombies under control. Now, setting zombies on fire won't necessarily kill them … you might end up with a walking tiki torch that sets everything in its path on fire until it burns out. However, if you have managed to get a herd of zombies in an enclosed area that is relatively fireproof, a flamethrower attachment on your skid steer might work out quite well if you can handle the smell of roasting zombies.
Buckets
A skid-steer bucket, if used properly, can be used to crush zombie skulls quite well. However, the bucket could also be invaluable when it comes time to build up secure walls around your compound or assist in creating a massive moat to keep those walkers out. They are great for moving rocks and dirt, and can even be used to uproot tree stumps.
Backhoe Attachment
A backhoe attachment would be fantastic for digging mass graves for the zombies you eliminate, or for creating an effective moat around your compound walls. It would also work digging out a solid foundation for walls that are both zombie and people resistant, as well as digging ditches and trenches. You really can't go wrong with a backhoe attachment for your skid steer.
Blades and Root Rakes
It could be argued that a large blade (like a snow removal blade) or a root rake would be an effective way to clear zombies out of the way. While it may not incapacitate them, it would work well clearing a path for other less robust vehicles to travel along. It would also serve well for maintaining dirt paths for vehicles to travel on.
Forklift
Add a forklift attachment to a skid steer and you could start clearing out those roads that are filled with stalled vehicles. It can also help you move materials for building shelters and walls.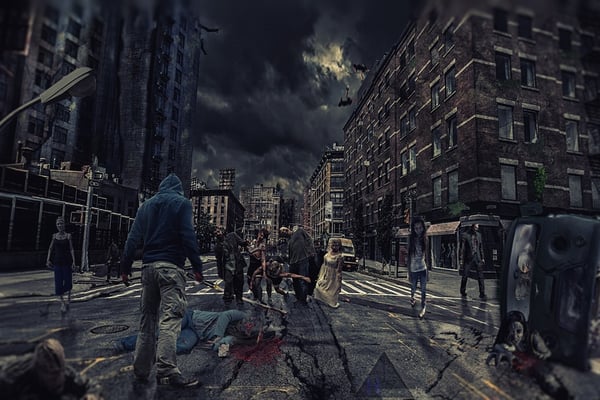 Image courtesy of Pixabay
Cutting Tools
Whether its an asphalt cutter, tree saws, or tree shears, proper use of a cutting attachment could work in slicing through a zombie herd. Zombies are going to be much easier to get under control with hand-held weapons if you can disable their legs, and most of these tools are at the perfect height for doing so. You can think of them as a zombie herd control measure, just remember to keep those blades clean and sharpened when you finish.
Thumb or Grapple
If you need to move zombie bodies out of the way, then you can't go wrong with a hydraulic thumb or grapple attachment. And like most of the attachments we've already talked about, they would be awesome for constructing protective walls or zombie traps. For example, a thumb could lift large logs into place for a more natural approach to a security wall.
Bozena Riot Control
There was a video released several years ago that showed a remote-control skid steer loader with a riot control attachment that basically formed an expandable wall with (what we assume) are heavy duty windows. This is the Bozena Riot Control skid steer, and it would work very well for trying to clear an area of walkers.
The Rook
Now, if you have the money to spend now, check out The Rook, which is an awesome armored critical incident vehicle. You'll notice it has many of the attachments we've discussed here, with an armored enclosure for the operator.
Conclusion
This article was meant for fun, but it does remind us of how many different uses there are for skid steers with the right attachments. Have a safe Halloween!
---
Texas Final Drive is your partner in providing new or remanufactured final drive hydraulic motors from a single mini-excavator to a fleet of heavy equipment. Call today so we can find the right final drive or hydraulic component for you, or check out our online store to find your O.E.M. manufacturer brand motor now.
---