We've talked before about compact equipment in the military. But in this Shop Talk Blog post, we want to look at skids steers and compact track loaders, mainly focusing on how they are used, how they are sometimes transported, and what manufacturers are most popular.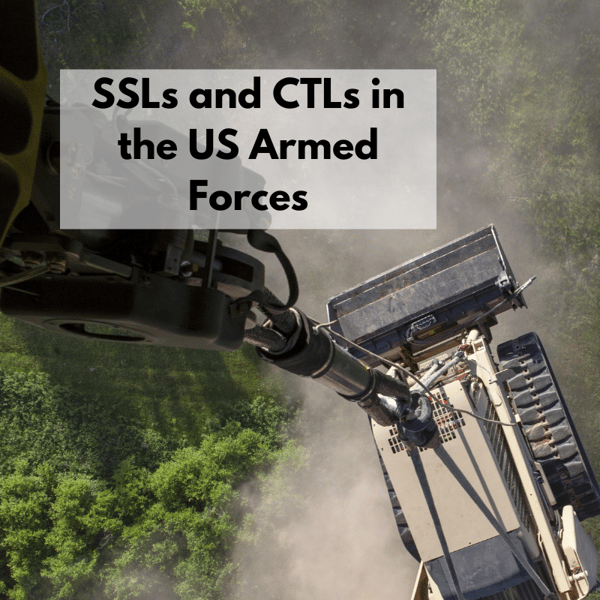 Republic of Singapore Air Force Airmen perform sling load operations at the Mystic drop zone, hoisting a Bobcat S450 skid steer loader with an RSAF CH-47 D Chinook helicopter in support of the Golden Coyote training exercise at the South Dakota National Guard West Camp Rapid training facility, Rapid City, S.D., June 14, 2016. The Golden Coyote exercise is a three-phase, scenario-driven exercise conducted in the Black Hills of South Dakota and Wyoming, which enables commanders to focus on mission essential task requirements, warrior tasks and battle drills. (U.S. Army photo by Spc. Kristen Root/Released)
---
How CTLs and SSLs Are Used
The US Armed Forces use skid steers and compact track loaders for many of the same tasks as civilians, but usually with some unusual twist. For example, CTLs may be outfitted with wheel saw attachments to remove damaged runway sections. The Marine Corps uses SSLs and CTLs to prepare for and clean up after military exercises (and they seem to be a bit partial to Bobcat machines) where they may be removing brush and undergrowth or filling in trenches.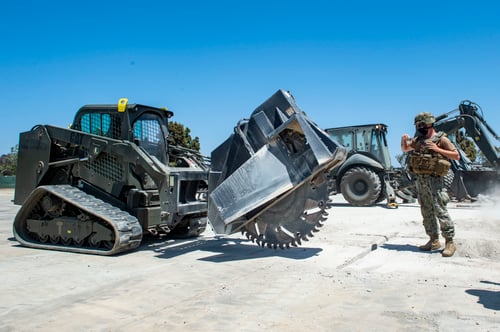 Navy Seaman Benjamin Plumb guides a skid steer with a wheel saw attachment into place during airfield damage repair training as part of a command post exercise at Naval Base Ventura County in Port Hueneme, Calif., May 3, 2021. Image Source
On the more mundane side, you can find images of the Air Force using skid steers to remove snow from mission-critical surfaces such as the flight line or clearing out essential parking lots.
SSLs and CTLs are also great at removing storm debris and cleaning up after natural disasters like Hurricane Katrina. In addition, they are currently used as crucial equipment for global humanitarian operations, such as loading survival supplies onto those massive, glorious C17 Globemasters or by the Navy Seabees as they build much-needed facilities.
An airman operates a skid-steer loader to remove branches and debris from a road during winter storm recovery efforts near Newburgh, New York, March 5, 2018. Air Force photo by Staff Sgt. Julio A. Olivencia Jr. Image Source
Using Helicopters to Transport SSL and CTLs
How these machines are transported can be different from what you see in civilian life. For example, the Alaska Army National Guard transported a Case CTL via a CH-47F Chinook helicopter and sling load to a remote village as part of Innovative ReadinessTraining, or IRT. This isn't how civilians typically move compact equipment, but it works great.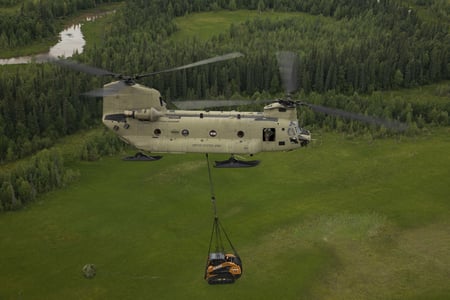 JOINT BASE ELMENDORF-RICHARDSON, Alaska - A 211th General Support Aviation Battalion CH-47 Chinook helicopter transports a skid-steer loader by slingload from Nicolai to the community of Telida, Alaska, as part of the Innovative Readiness Training program on July 27, 2021. The IRT program is designed to enhance mission readiness while addressing the needs within America's communities. Image Source
Another great example would be a team effort between the Marines and the Navy in moving a CAT 279D via a CH-53E Super Stallion with Marine Heavy Helicopter Squadron 465.
Types of CTLs and SSLs Used
The leading brands used by the US Armed Forces seem to be Bobcat, John Deere, Case, Caterpillar, and Kubota. For example, the U.S. Armed Forces Contracting Division has been known to order Bobcat S150 and Bobcat S300 skid steers. The Air Force even has a qualification training package for skid steer loaders that features a Bobcat 753 on the front cover. And by the way, we carry the final drives needed for all of these brands.
The Armed Forces also use specialized equipment, such as the US Army Skid Steer Loader M400W and Compact Track Loader M400T, made by Case as part of a contract with the U.S. Army TACOM (Tank-automotive and Armaments Command). These particular machines have been nicknamed "Taskmasters."
Conclusion
The US Armed Forces consider skid steer loaders and compact track loaders as essential equipment, and so do many of our readers. If you're a veteran, we'd love to hear about what kind of equipment you operated! Let us know in the comments below.
---
---