Does your final drive wail like a wounded animal? Scream like a banshee? Whine like an angry baby? Make unbearable squealing sounds? Find out why in this Shop Talk Blog post where we discuss what causes the problem and how to solve it.
Video Footage of a Failing Final Drive
We recently had a customer send in video footage of their final drive motor so we could give them an idea of what was wrong with it. A picture is worth a thousand words, so a video must be worth even more.
It starts out with an engine running smoothly in the background. We see the drive start to turn very slowly, almost hesistating at first. Then, as it picks up a little bit of speed, we notice a disturbing grinding noise. As the final drive motor picks up speed, the low growl turns into a high-pitched wail. When the drive stops, it stops. As the drive begins to turn again, the sounds start -- whether it's going in forward or reverse.
Diagnosis: Weak Charge Pump
From that video, we were able to reach a pretty solid conclusion about what is wrong with that final drive: there is a weak charge pump and, as a result, the brake on the final drive motor is not fully releasing.
One of the primary purposes of a charge pump is to provide the back pressure needed to keep the hydraulic system functioning smoothly. A weak charge pump can no longer provide the pressure and fluid flow to disengage the brake. When the motor turns, the brake discs drag violently across the brake housing splines, which is the source of the whining sound. Besides destroying the brake discs (which can be replaced without great expense), permanent damage results to the brake housing (which is considerably more expensive). This can result in some expensive and time-intensive repairs.
What Happens with a Weak Charge Pump
That's why it is very important that you stop running a final drive that is making a noise like this. The longer you run it, the more serious the damages will be. As the brake discs drag across the brake housing splines, slivers of metal begin to come off. At that point, those slivers become contamination. They are now in your hydraulic motor, and will start causing problems with the the bearings, the rotator group, and more. Before long, you have totaled a final drive that was perfectly good to begin with.
This is a very common problem for skid steer loaders and compact track loaders -- so common that we did another article on it. In the image below, you can see the brake housing from a similar final drive motor. If you look closely you'll see how the splines look like they've been chewed on. All that metal has to go somewhere, and in cases like these it begins to circulate through your hydraulic motor.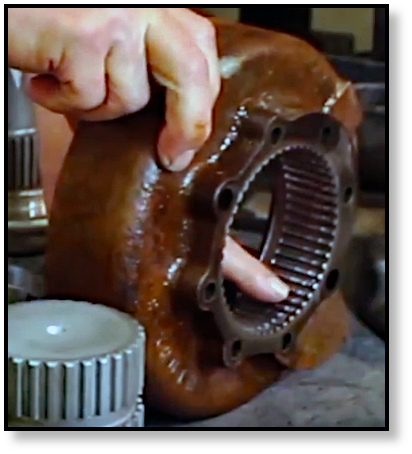 Here you can see an example of what good brake discs look like next to brake discs damaged because of the charge pump. They end up looking scorched, discolored, and scarred -- and some of them may actually be broken into pieces. While replacing the brake discs may not be an expensive repair, the fallout that results from damaging those discs can be expensive.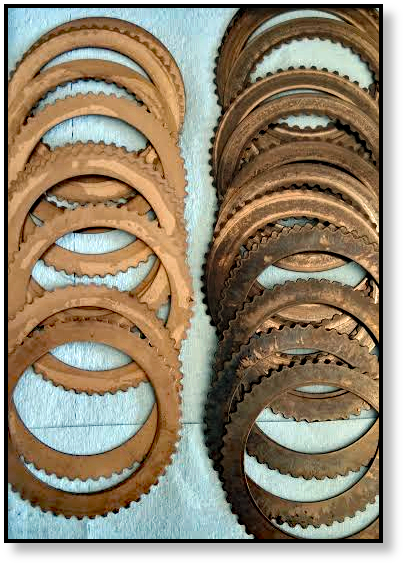 Initially It's Not a Problem with the Final Drive
The source of this issue is not the final drive motor -- it is the charge pump. The final drive motor exhibits the symptoms and will eventually be damaged, but the source of the problem is the charge pump. If the charge pump is not replaced, you can put a brand new final drive motor on that machine and the same thing will happen all over again.
Conclusion
In conclusion, if your final drive is making a wailing sound, have mercy on it and take the time to figure out what is wrong with your final drive. Never run a final drive that is making sounds like this, or you may end up with a totaled final drive that cannot be repaired. If it is weak charge pump, putting a brand new final drive on your machine will solve nothing. The charge pump must be replaced for the source of the problem to be solved.
---
Texas Final Drive is your partner in providing new or remanufactured final drive hydraulic motors from a single mini-excavator to a fleet of heavy equipment. Call today so we can find the right final drive or hydraulic component for you, or check out our online store to find your O.E.M. manufacturer brand motor now.
---