Compact wheel loaders are still fairly new in the North American equipment market, but they have been popular for quite a while in Europe. In this Shop Talk Blog post, we are going to look at four common questions about compact wheel loaders, including what would be classified as compact.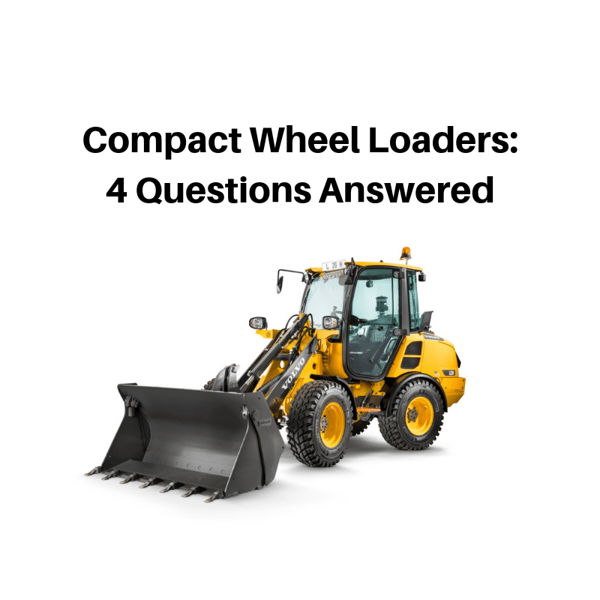 ---
Here are some other Shop Talk Blog posts you might find of interest:
What Makes a Wheel Loader "Compact"?
CAT's compact wheel loaders have 100 hp or less; with John Deere, they are 103 hp or less, and with Komatsu that have up to 94 hp. Volvo, on the other hand, tops out their line of compact track loaders at 117 hp. Given that most track loaders are rated by hp, it would seem that a compact track loader has less than 125 hp, although that certainly is not a hard and fast rule.
What Do Compact Wheel Loaders Have in Common with SSLs and CTLs?
Like skid steers and compact track loaders, they are made to operate in constrained spaces and tight quarters. Also, they all fall into the category of compact equipment and there are an expanding variety of attachments available for the compact wheel loaders. All three types of machines pack quite a bit of power in a small amount of space, and can be used for a wide variety of tasks in construction, agricultural, demolition, forestry, and more.
How Do Compact Wheel Loaders Differ from SSLs and CTLs?
Unlike CTLs and SSLs, compact wheel loaders have a much wider turning radius. Compact wheel loaders do not have differential steering like skid steers, and they cannot spin turn or counter rotate their wheels. They do, however, have their own set of features that clearly set them apart from other machines in the compact category:
Higher operating load capacity
Easier cab access
Superior fuel efficiency
Significantly higher travel speed
Steering wheel equipped cab
Superior lift and reach
Lower center of gravity
Longer wheelbase
Many compact wheel loaders have AWS (all-wheel drive), which means that the rear wheels also turn. Another common site is articulated compact wheel loaders, which gives them even more maneuverability. Some combine both AWS and articulation for maximum agility.
Another major difference has to do with attachments: compact wheel loaders can't handle high-flow attachments as skid steers can.
Where Do Compact Wheel Loaders Work Best?
Compact wheel loaders seem best adapted to jobs that involve constraints such as maneuverability, tight working quarters, and uneven terrain. The work extremely for loading and placing jobs with heavy loads that require more lift and reach than a skid steer or CTL can provide.
Conclusion
Popular compact wheel loader manufacturers include CAT, John Deere, Komatsu, Volvo, Case, and Wacker Neuson, and it is expected that these machines will see a steady rise in popularity as they become more well known in North America. Do any of you have experience with them? If so, leave us a note in the comments below.
---
Texas Final Drive is your partner in providing new or remanufactured final drive hydraulic motors from a single mini-excavator to a fleet of heavy equipment. Call today so we can find the right final drive or hydraulic component for you, or check out our online store to find your O.E.M. manufacturer brand motor now.
---