What may seem to be a final drive issue can sometimes be a problem with track tension. This is true whether or not you have an excavator, a compact track loader, a multi-terrain loader, a backhoe, or any other tracked machine. In this Shop Talk Blog post, we are going to discuss track tension issues and general guidelines for adjusting track tension.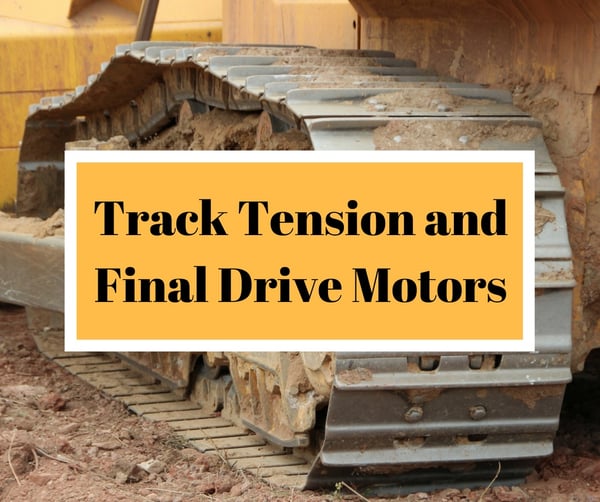 ---
Here are a few other Shop Talk Blog posts you might like ...
Overly Tightened Tracks
If the tracks on your machine are too tight, it can cause the final drive motor to seem weak. This is especially apparent when going uphill or carrying a load. This may seem to be a problem with the final drive motor, but tracks that are too tight can seem like a weak final drive. Tracks that are too tight also result in wasted power and excessive fuel usage. Also, overly tightened tracks can cause the idlers and rollers to wear out prematurely. In extreme cases, it can even damage the tracks themselves.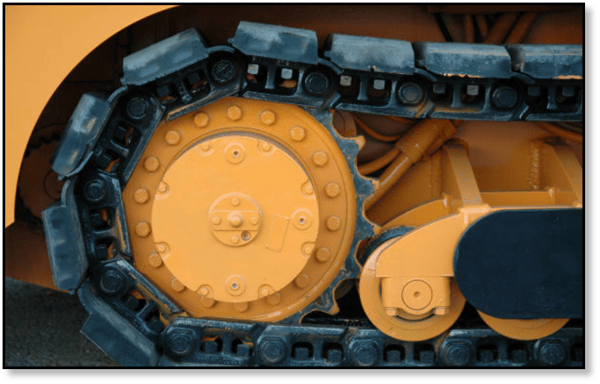 Loose Tracks
Tracks that are too loose can come off your machine (the official word is "detracking"). Loose tracks will also accelerate the wear of critical parts like pins, bushings, and even the sprocket. And a worn sprocket can also mimic final drive problems. Keep in mind that if you tighten the tracks when they are packed with debris, that they will likely be too loose once the debris is cleaned out.
General Guidelines for Adjusting Track Tension
The exact procedure for measuring and adjusting track tension varies depending on the type of machine you have and who the manufacturer is. Always refer to your manual to find out the proper tension and procedure for adjusting the track tension for your particular machine. The process for a compact excavator is going to be entirely different from that for a CTL / MTL.
That said, some tips and guidelines are valid regardless of the type of machine. For example, debris in your tracks can mess with your track tension, so take the time to clean out the tracks and undercarriage before you try to adjust the tension.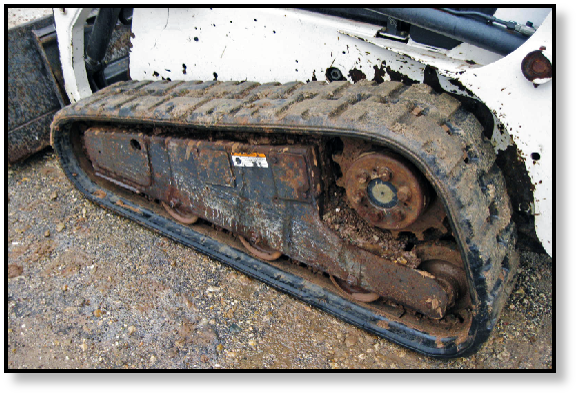 Keep in mind that tracks that are adjusted in the shop (as opposed to on-site) may not still be at right tension after getting packed with mud and similar debris. That's why many experts recommend that you adjust the track tension on site, preferably after running your machine for about 30 minutes. That time allows your machine a chance to acclimate to the site conditions. Track tension should be checked every 10 to 15 hours of machine use. Finally, a general rule of thumb is to use less tension for when you are working in muddy, soft conditions. For hard, rocky conditions it is better to tighten the tension.
Conclusion
If there's something is wrong with your final drive, be sure to check the track tension before you decide it's time to replace. Track tightness (or lack thereof) can mimic issues with the final drive. Remember to check the tightness of your tracks regularly and follow the guidelines provided in your manual.
---
Texas Final Drive is your partner in providing new or remanufactured final drive hydraulic motors from a single mini-excavator to a fleet of heavy equipment. Call today so we can find the right final drive or hydraulic component for you, or check out our online store to find your O.E.M. manufacturer brand motor now.