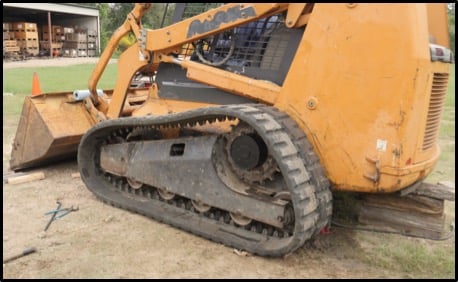 We know that final drive motors aren't cheap, and any downtime with your machine is costly. You want to get your replacement final drive installed as quickly and painlessly as possible, and avoid future problems that might come as a result of a poor installation. Here are some tips for installing a final drive with just those goals in mind.
Tag the Hoses Ahead of Time
You can save yourself some time and some headaches by tagging the hoses as you remove them; that way, you'll know what they are. You could use something as simple as a chalk mark, or something more durable like a colored plastic tie. If you forget this step, then here is a video to help you identify the ports on your final drive hydraulic motor.
Clean Up the Area
When your final drive is removed, you have a great opportunity to remove accumulated dirt and debris, as well as clean up any fluid that may have leaked out. Not only is this just a good practice, it also reduces the chances of introducing damaging contaminants to your replacement final drive when you install it.
Make Sure the Connections Are Clean
Before you reattach the hoses to your replacement final drive, make sure the connections on those hoses are clean. If they aren't, you run the risk of introducing damaging contaminants to your final drive right off. Don't ruin your brand new final drive because of dirty connections. This is true, too, if you fix a final drive motor and now need to reinstall it.
Add Hydraulic Fluid to the Final Drive Motor
Trying to run a hydraulic motor without hydraulic fluid already in it can cause serious damage. Add clean fluid to your replacement final drive before you install it to make sure it is properly lubricated before it starts. This step is overlooked very often, and can be catastrophic for your final drive.
Add Gear Oil to the Planetary Hub
If you have a planetary final drive motor, then you should make sure that it has sufficient gear oil in the planetary hub it before you try to run it. If you aren't sure how to add gear oil to your final drive, we have a blog post that should help you.
Replace the Case Drain Filter
If your machine has a case drain, then you need to install a brand new case drain filter along with the drive. Clogged case drain filters are a major cause of catastrophic final drive failure. We highly recommend installing a new case drain filter whenever you install a replacement final drive motor; in fact, we sent you a free one with every final drive that has a case drain, SO USE IT!
Test Your Drive
Once you have your drive installed, but before you put the sprocket on, test your final drive at low speed running it backwards and forwards. If it is running in wrong direction, then you have the input and output lines reversed, which is an easy fix. This is also a good time to check the gear oil levels we referred to earlier.
Conclusion
You've got a significant financial investment in your replacement final drive, and the last thing you want to do is have more problems with it. These tips should help you have a smooth, problem-free installation and set your final drive up to run with as few problems as possible.
---
Texas Final Drive is your partner in providing new or remanufactured final drive hydraulic motors from a single mini-excavator to a fleet of heavy equipment. Call today so we can find the right final drive or hydraulic component for you, or check out our online store to find your O.E.M. manufacturer brand motor now.