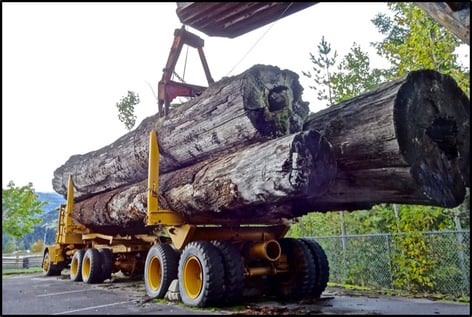 Forestry in North America goes back to the days of the First Nations in Canada and the early colonists of the 1600s in the United States. Since then, both the methods and the machines used in logging have changed dramatically, with some of the most rapid developments taking place in the last 100 years. The focus of this Shop Talk Blog post will be to introduce you to the four most successful forestry equipment manufacturers in North America: Brandt, John Deere, Caterpillar, and Tigercat.
Brandt
Brandt, based out of Saskatchewan, Canada, is not only a dealer for many different types of John Deere equipment, but also an equipment manufacturer in its own right. Included in the John Deere equipment Brandt sells is forestry equipment. The product line offered by Brandt includes feller bunchers, forwarders, harvesters, skidders, delimbers, crawler dozers, and related forestry heads and attachments. Their own manufacturing focus is in providing guarding solutions and attachments for forestry applications.
John Deere
John Deere is a well-known name in American equipment and manufactures machines for agriculture, construction, landscaping, and forestry. John Deere's forestry equipment line includes more than those featured by Brandt, including knuckleboom loaders, wheeled loaders, swing machines, and forestry heads and attachments. Many of these machines are available in either tracked or wheeled versions. They also offer TimberOffice, a fleet management software designed specifically for forestry fleets.
Caterpillar
Although Caterpillar is primarily known for heavy off-road equipment such as massive bulldozers and wheel loaders, this company is another major contender in the manufacturing of forestry equipment. Caterpillar has the broadest approach of all the manufacturers discussed here; their line of forestry equipment covers not just logging, but also land management, road building, and millyards. Machines for logging include feller bunchers, forest machines, forwarders, harvesters, knuckleboom loaders, and skidders.
Tigercat
Of all the manufacturers on this list, Tigercat is the youngest. It was founded in 1992, when a group of logging experts teamed up with MacDonald Steel. Their focus was in forestry equipment, and their aim was technical superiority. Tigercat has risen to be a major contender with the likes of Caterpillar and John Deere when it come to forestry equipment. Tigercat is based out of Paris, Ontario, and they produce skidders, loaders, harvesters, feller bunchers, forwarders, loggers, and forestry heads. They also manufacture mulchers and utility vehicles related to forestry.
Conclusion
Other popular forestry equipment manufacturers are no longer in existence, even though their machines continue to work hard on sites across the world. Two major ones include Franklin Equipment Co. and Timberjack. There are, of course, many more forestry equipment manufacturers throughout the world, such as Komatsu, Valmet, Bell Equipment, and Ponsse. However, Brandt, John Deere, Caterpillar, and Tigercat stand as the top contenders in forestry equipment in North America.
---
Texas Final Drive is your partner in providing new or remanufactured final drive hydraulic motors from a single mini-excavator to a fleet of heavy equipment. Call today so we can find the right final drive or hydraulic component for you, or check out our online store to find your O.E.M. manufacturer brand motor now.