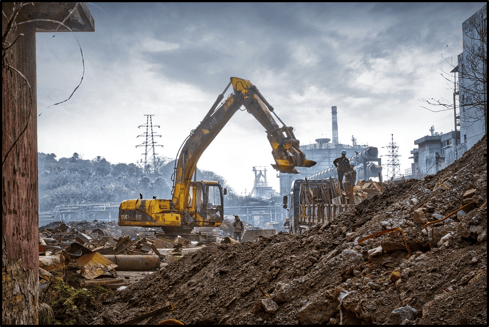 Both demolition and deconstruction make extensive use of hydraulic equipment to get the job done. This Shop Talk Blog post will explore how hydraulic equipment is used in this particular industry,
Demolition versus Deconstruction
Most people have a good idea of what demolition means, but not such a clear picture of what deconstruction means. Deconstruction can be thought of as the reverse of construction: a building is disassembled, and the original building materials are reused, if possible. There can be up to 90% reuse in some projects. Deconstruction is a greener, safer, and more low-impact alternative to classical demolition, particularly in sensitive areas. Demolition, on the other hand, is a faster, more destructive process whose goal is to remove a structure in a timely manner without concern for recycling or reusing structural materials.
Cranes
Cranes are often the first type of equipment people think of when it comes to deconstruction and demolition. The classic image of demolition involves a crane outfitted with a massive wrecking ball -- which is considered an outdated method that has been replaced with more safe and precise practices. Tower cranes are particularly useful when deconstructing high rise buildings (as in 20+ stories), while mobile cranes work well for medium-sized projects. They are used to remove materials from the site, as well as to bring materials such as wood for interim bracing back in.
Skid Steer Loaders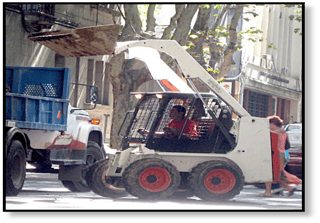 Skid steer loaders work very well in deconstruction and demolition applications, primarily because they are compatible with a wide variety of attachments. They are also useful for interior demolition due to their small size, and are frequently used for materials handling. Often, skid steers are outfitted with a hydraulic hammer attachment to break up foundations, block walls, concrete flooring, etc. Other commonly used attachments are grapple buckets, shears, hydraulic breakers, and cleaning attachments. These are used in both tearing down structures and cleaning up the site afterwards.
Wheel Loaders
Wheel loaders are used in materials handling such as pushing, dozing, and piling, but have much more power and torque than the smaller skid steer loaders. They may be outfitted with heavy duty demolition buckets, depending on the type of materials used and what will be done with them.
Excavators
Hydraulic excavators are used extensively in deconstruction, especially the long reach excavators that have extended boom arms. Like skid steer loaders, excavators have many different attachments available. These include concrete pulverizers, hammers, grapples, scrap shears, and even magnets for separating out steel and iron. Smaller jobs may use mini- or midi-excavators in place of full-size excavators. Some deconstruction and demolition professionals even use excavators in place of cranes.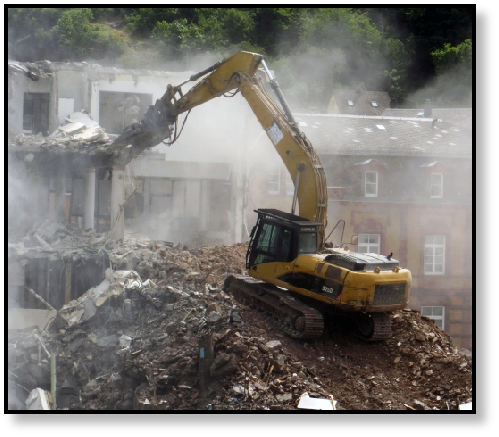 Forklifts and Telehandlers
Other key pieces of hydraulic machinery used deconstruction - and to some degree, in demolition - include forklifts and telehandlers. These machines are especially useful for transporting resuable materials like lumber. Telehandlers can also be outfitted with different attachments to extend their usefulness.
Conclusion
Hydraulic equipment makes modern deconstruction and demolition possible. As the methods to accomplish demolition have evolved, so have the equipment and attachments used. Excavators, skid steer loaders, wheel loaders, cranes, forklifts, and telehandlers (along with their attachments) are vital pieces of equipment that remain indispensable to the demolition and deconstruction industries.
---
Texas Final Drive is your partner in providing new or remanufactured final drive hydraulic motors from a single mini-excavator to a fleet of heavy equipment. Call today so we can find the right final drive or hydraulic component for you, or check out our online store to find your O.E.M. manufacturer brand motor now.