Your drive motor just died and work has come to a grinding halt. You need a replacement quickly and have to submit some RFQs to different dealers. It may seem like a waste of valuable time, but the more info you can provide about the final drive that failed the faster you'll get that quote and the more accurate it will be.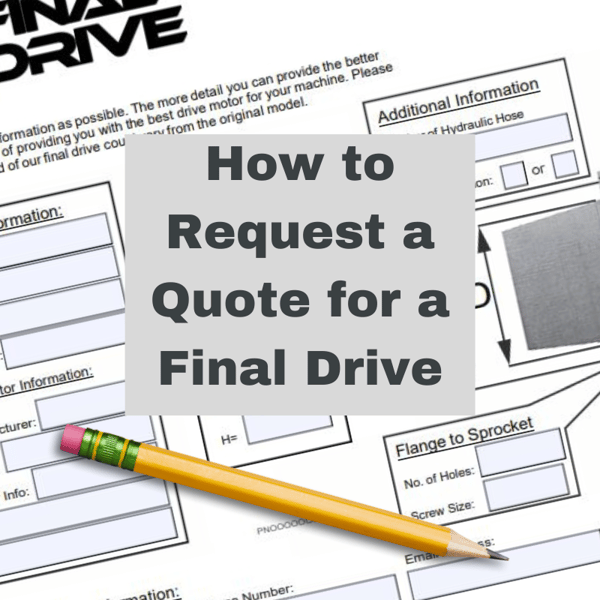 ---
Here are a few other Shop Talk Blog posts you might find of interest:
To get an accurate quote for a final drive, it makes sense that you should be as specific as possible about the final drive you need. The most basic information you'll need to have on hand for an RFQ would be the machine brand and model number. If you have the year for the machine and its serial number, that helps too. But the more detail you can provide about the travel drive, the better.
Final Drive Information
For your final drive, be sure to have on hand the drive manufacturer and model (might also be the part number or product number). This info should be on its tags or identification plates, along with a serial number and other details. If you can't read the tag on one side, check the drive motor on the other side to see if it's legible. What you'll see depends on who the manufacturer is.
For example, Comer brand final drive tags also have the gearbox ratio on them, while some Rexroth tags may include details such as minimum displacement, speed, and flow power. Any additional info you can pull from the tag is good, and most final drive dealers don't mind if you send them a picture of your tags.
It's also good to copy down the number of hydraulic hose connections and whether it's a single or dual speed. While you're at it, make a note of the number of holes and bolt size for the flange to undercarriage and flange to the sprocket.
Spec Sheet Details
We also have a blank spec sheet to help you specify what you need. As you can see, there are several dimensions (six, in fact) that are also helpful if you can measure them.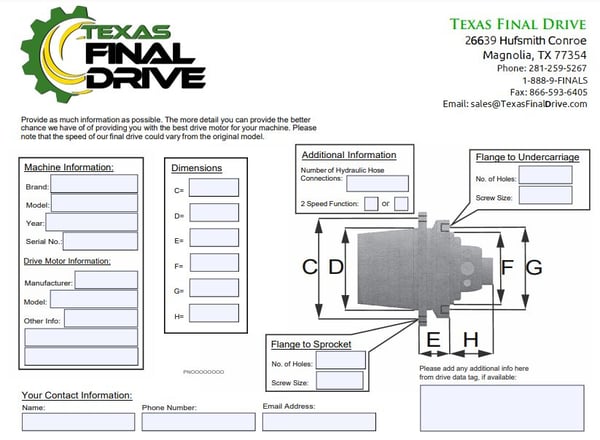 You can always fill out one of these spec sheets by hand and just attach it to an email, or just send us the information on it. And if you don't have all this information on hand or can't access it, just fill out as much as possible.
---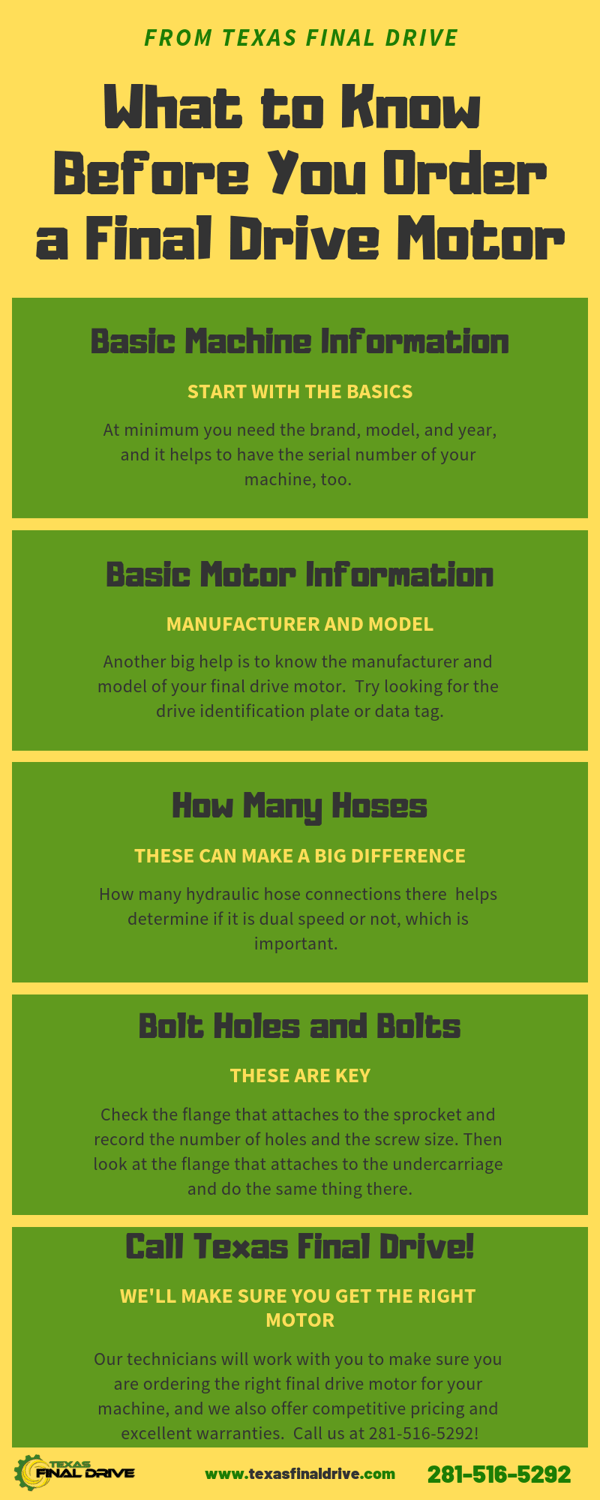 ---
Additional Hints and Tips
Finding the right replacement for a Bobcat machine can be very tricky, so here's a blog post on how to tell which one you need: Tips for Identifying Your Bobcat Final Drive Motor. Also make sure to include the condition of the final drive you're looking for: new, used, or reman. If you aren't sure and would just like the prices for all of them, that's fine. And finally, here's the link to our Request for Quote.
Conclusion
If you have any questions at all, you can email us at sales@texasfinaldrive.com or give us a call at 281-968-4773. Our team is more than happy to help you get an accurate quote for the final drive you need.
---
---
---