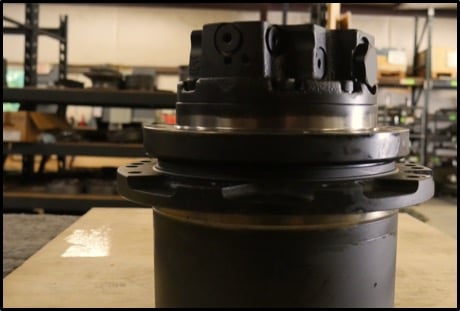 When your final drive quits working, there is some information you can put together that will help a technician diagnose the problem more quickly and accurately. In this Shop Talk Blog post, we are going to look at four questions you should ask before you send a final drive in for diagnosis or repair. Answering these questions will help you obtain a more accurate diagnosis of your final drive.
Question #1: How did your final drive fail?
Everyone knows that saying something like "It stopped working" isn't very helpful. There are quite a few ways a travel drive could fail: the cover plate could blow off, it could refuse to turn, it could shudder when you turn, it might only steer to one side, or the drive freewheels, just to name a few. Be as specific as possible about how the final drive failed.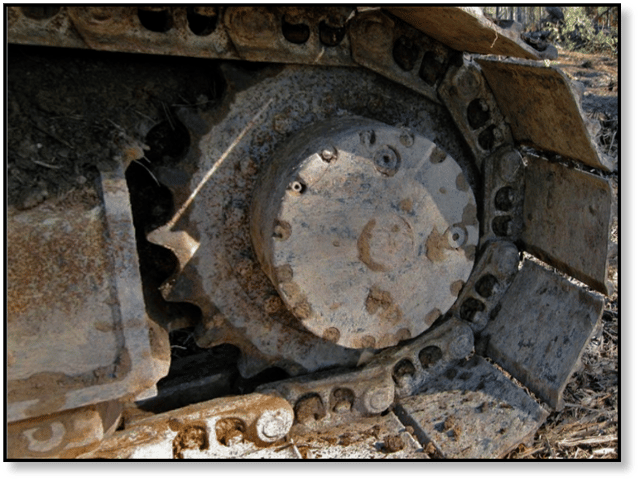 Question #2: What were you doing when it failed?
Be prepared to discuss what was going on with the machine when the final drive failed. Did the problem occur when going uphill or was the machine on flat ground? Were any attachments being used? Was there a significant load involved? Had the gear oil or hydraulic fluid been replaced recently? Had anything unusual happened?
Question #3: What did your final drive sound like when it failed?
Never underestimate the power of sounds to help diagnose mechanical problems. Descriptions like "it was making a grinding noise right before it failed" or "it was screeching" can provide some excellent clues. Excessive noise can indicate worn out bearings or gears, loose sprocket bolts, or something as simple as not having enough gear oil.
Question #4: Has the final drive been leaking?

Always mention any leaks that were occurring before the final drive failed. Leaks in a final drive usually occur either around the gear box cover or behind the sprocket. If it's coming from the gear box cover, the cover or casing might have sustained some physical damage that is allowing fluid to leak out. In that case, repairs will be needed.
If the leak is coming from the sprocket, you may be having issues with your floating face seal. There's another possibility for both of these cases, though: a build-up of pressure in the final drive might have caused these leaks, something that could result in catastrophic damage if not addressed. This can be caused by a clogged case drain filter.
Conclusion
If there is something wrong with your final drive, be sure to write down what went wrong. Answers to questions like these help technicians determine if the problem can be fixed by repairing the travel motor, or if a replacement is needed. Keep in mind that the failure of the travel motor is sometimes the symptom of another problem. The more information you can provide, the likely it is that the technician will be able to track down the real source of the problem.
---
Texas Final Drive is your partner in providing new or remanufactured final drive hydraulic motors from a single mini-excavator to a fleet of heavy equipment. Call today so we can find the right final drive or hydraulic component for you, or check out our online store to find your O.E.M. manufacturer brand motor now.