---
Travel Motors Versus Slew Motors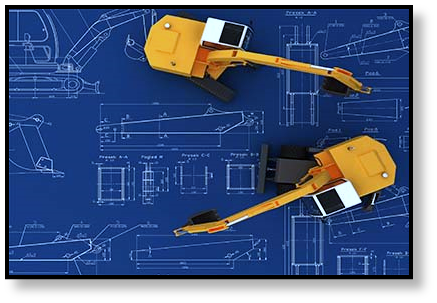 There are several different ways to classify hydraulic motors, but in this Shop Talk blog post we are going to focus on classifying them in terms of the function they perform, starting with travel motors versus slew motors. Do you know the difference?
---
Here are a few other Shop Talk blog posts we'd like to recommend:
---
Travel Motors
The term travel motor refers to motors that provide propulsion, as opposed to swing motors or slew motors that enable equipment to rotate. Travel motors are used on a variety of both compact and heavy equipment, and can be divided into three basic categories: wheel drive motors, travel drive motors, and track drive motors.
Wheel Drive Motors
Wheel drives are commonly used on construction, forestry, and agricultural equipment. Examples include skid steers, combines, wheel loaders (aka, bucket loaders, front end loaders, backhoes), motor scrapers, sprayers, harvesters, and forklifts. They are termed wheel drives in part because they provide power to wheels as opposed to tracks. They are hydraulic as opposed to electric, and are used to directly drive the wheels.

A wheel drive can be used to drive multiple wheels if they are mechanically coupled, as in the case of a skid steer; otherwise, you would need one wheel drive per powered wheel. Most wheel drives consist of a radial piston hydraulic motor with a speed-reducing gear box and they are typically designed with a large displacement per revolution.
---
For more information on Mini-Excavators get your free Guide to Mini-Excavators!
---

Travel Drive Motors
Like wheel motors, travel drive motors are used in a variety of industries including construction, material handling, and forestry.
Travel drives are used on crawler-type machines such as excavators, feller-bunchers, skidders, mobile crushers, crawler cranes, crane shovels, and crawler tractors. They may also be used on some types of wheel rollers.
Compared to wheel drives, they have a much higher gear ratio because they need to provide more torque and don't need to provide as much speed.
Track Drive Motors
Track drives are primarily found on smaller excavators and compact track loaders (multi terrain loaders). They don't provide as much torque as a travel drive and their gear ratio is smaller. Like wheel drives, they are usually radial piston motors but there axial piston models available, too. In addition, track drive motors are slower than wheel drive motors.
Slew Motors

Slew motors, also referred to as swing motors or swing drive motors, provide rotation. For example, a slew motor is what enables the house of a mini excavator to rotate 360°. While still hydraulic motors, they serve a very different purpose from drive motors and thus are designed differently.
They are found on excavators, concrete pumps, cranes, and utility vehicles. On excavators (wheeled, tracked, and compact), they are usually axial piston hydraulic motors.
Conclusion: Hydraulic Motors Special Functions
One of the many ways of classifying hydraulic motors is by the function they perform, starting with slew motors and travel motors. The term travel motors covers wheel drive motors, travel drive motors, and track drive motors – each performing their own special function. Slew motors are used to provide rotation, such as rotating the housing on an excavator.
---
Keeping your excavation equipment running at peak performance requires final drive motors performing well. Texas Final Drive provides new and reman hydraulic drive motors for all major brands of heavy equipment. Check out the latest inventory for Bobcat Skid Steer Loaders Hydraulic Motors.