Let's talk about why purchasing a used final drive motor isn't worth the risk.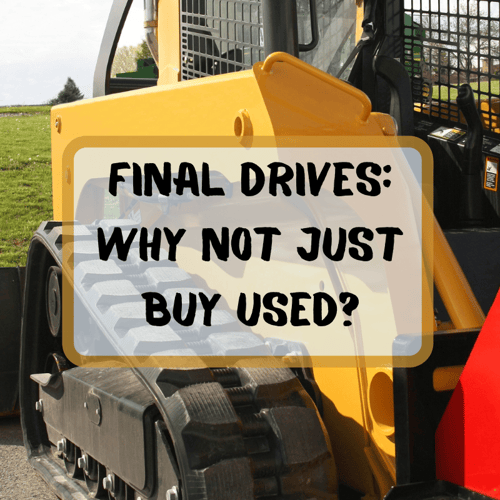 ---
Here are a few other blog posts you might find helpful:
You're knee-deep in the middle of a major project with deadlines looming. Your stress levels are already high, and the national economy isn't helping your bottom line. A final drive has gone out on a critical piece of equipment and you are nowhere near finished with that job. You check the price of a new replacement (both OEM and aftermarket). And can't invest that money into a new final drive right now.
Then you run across a used final drive, maybe locally, that looks like a great bargain. But is it?
Used Final Drive Motors
When you buy a used final drive, you have no idea what is going on inside. And let's face it: someone is likely selling it for a good reason. You don't know anything about the condition of the bearings, whether it was maintained well, or if the seals are almost warn out. There are a host of unknowns that could prove costly and result in even more downtime.
Lubrication
You may check the oil levels and they seem good and the oil is fresh. However, you don't know if the original owner ever let the drive motor run without enough gear oil (or even dry). The gear system and bearings on the planetary side could be seriously damaged if they did run without enough lubricant, or if contamination ever got inside the gear hub. And it might be that the gear oil was rarely changed and turned into a thick, smelly sludge that does more harm than good.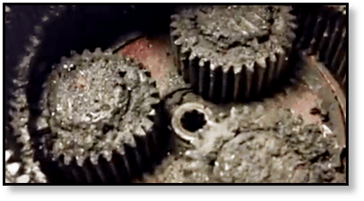 Seals and Bearings
Critical components such as seals and bearings have a finite life, and if you buy a used final drive motor you don't know how much life they have left -- if any. And this is true even for a well maintained drive motor. Things naturally wear out, and seals and bearings have a short useful life compared to some of the other components in your drive.
For example, the drive might not be leaking at all, but a week after you install the seals may give out simply because they are old. Or the used final drive motor may run well for a while, then you notice some vibration or excessive noise. The bearings are about to give out, and you had no way of knowing when you bought that used drive motor.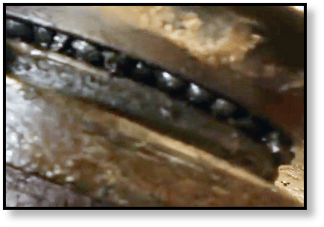 Contamination
If the used final drive you purchase is contaminated on the hydraulic side, then you run the risk of contaminating your own hydraulic system. While it's true that most of that contamination will filtered out by your hydraulic filters, it can still do some pretty serious damage before it reaches a filter. And contamination on either side of a final drive (e.g., hydraulic or planetary) will accelerate wear.
Normal Mechanical Wear
Another potential issue with purchasing a used final drive lies in the level of wear the internal components have experienced. Wear affects the efficiency and performance of your final drive, so you risk purchasing a poorly-operating or weak final drive motor when you opt for a used one.
And even a well-maintained used final drive is going to have wear. And you'd have to open up a final drive and disassemble it to look for signs of wear like scratches, scoring, etc.
The Alternative: A Reman Final Drive Motor
So what can you do if your budget won't allow a new OEM or aftermarket final drive? You can look for a remanufactured or rebuilt final drive motor from a reputable shop. When you invest in a quality reman final drive, you will a like-new final drive that meets or exceeds OEM specifications at a fraction of the price of a new one. In addition, if you purchase it from Texas Final Drive, you get a 1-year hassle free warranty. We buy old cores and put them through a rigorous inspection and restore them.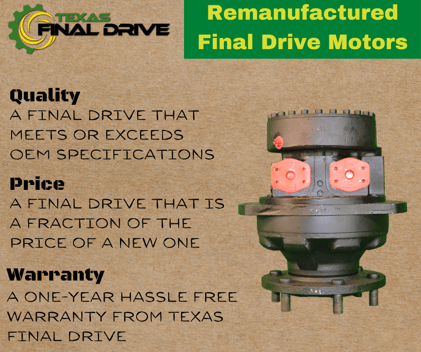 Not convinced? Check out our 10-step reman process!
Conclusion
Buying a used final drive is most often buying someone else's problems. When you are in the middle of deadlines and work, you can't afford to invest your money in a motor that might fail within a week. A reman final drive motor can give you like-new quality at a fraction of the price. If you are interested in what we have to offer, give us a call at 281-205-3255.
---
---