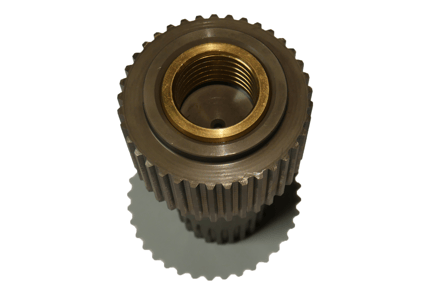 In this Shop Talk Blog post, we are going to look at a Bobcat T190 drive shaft bushing that came into the shop. We'll discuss the basics about bushings, their need for lubrication, what went wrong with this particular bushing, and how this affected final drive performance overall.
Bushing Basics
Bushings, also known as sleeve bearings or plane bearings, are hollow cylindrical parts that are used to reduce friction, provide support, aid with alignment, minimize wear, and help with lubrication. Unlike anti-friction bearings (e.g. ball bearings or needle bearings), bushings are simple in their design and resemble a sleeve. Bushings in a final drive motor are made out of a soft metal, usually brass or bronze, although there are polymer bushings available as well.
Failed Drive Shaft Bushing from a Bobcat T190
The drive shaft bushing shown in the video is from a Bobcat T190 compact track loader. This bushing interfaces with the brake piston and was designed to have grooves in it called oil rings or oil lands. The purpose of oil lands is to help pull lubricating oil up along the shaft of the brake piston. If the oil lands wear off, as was the case in this video, the brake piston shaft will not be properly lubricated. This eventually results in excessive heat and scoring. Once the lands have worn off, the drive shaft will be loose in the bearing. This can cause misalignment of the shaft. This will not only have a negative impact on final drive performance, but it can result in devastating cascade damage as other parts are damaged.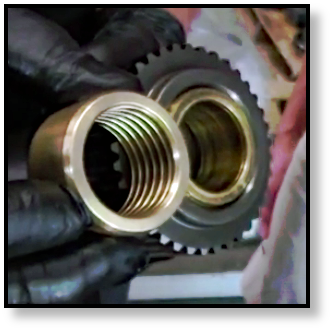 In this case, a replacement drive shaft bushing was necessary. Keep in mind that a bushing is designed to take the brunt of the wear and extend the life of the drive shaft and the brake piston. Without it, both parts would wear out much more quickly. It is much cheaper to replace a bearing than it is to replace a drive shaft or a bushing.
Installing a New Bushing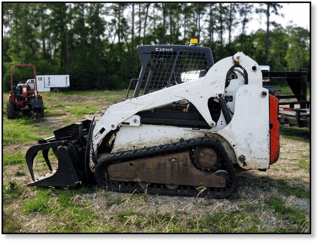 If you disassemble a Bobcat T190 final drive and discover the drive shaft bushing to be worn out, you will need to install a new one. Remember: while installing a bushing, it is supposed to be tight in the housing, not tight on the shaft. If you can just slide the bushing into the housing by hand, then it is too small.
A press is usually required to install correctly sized bushings, although there are other methods that can help you press the bushing into place without risking too much damage to the bushing. Keep in mind that the bushing surfaces should not be scarred up, and some care should be taken when installing them to prevent that from happening.
Conclusion
Bushings are designed to have a finite life and be periodically replaced. If your final drive is overheating or making excessive noise, that can be a sign of bad bushings (including the drive shaft bushing discussed here) or bearings. When a bushing or bearing fails, it can quickly damage quite a few other key components. If you suspect issues with your bushings, feel free to give our team a call.
---
---
Texas Final Drive is your partner in providing new or remanufactured final drive hydraulic motors from a single mini-excavator to a fleet of heavy equipment. Call today so we can find the right final drive or hydraulic component for you, or check out our online store to find your O.E.M. manufacturer brand motor now.