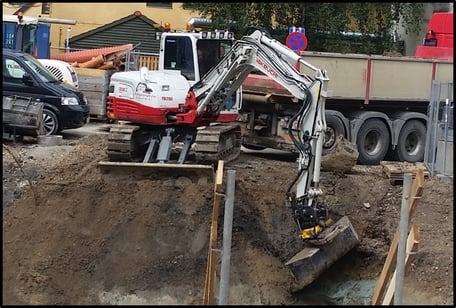 At Texas Final Drive, we sell quite a few Takeuchi final drives and hydraulic motors.
We discovered some interesting facts worth sharing after doing some background research on Takeuchi
.
In this Shop Talk Blog post, you will find out the relationship between Takeuchi and the Berlin Wall, how the words "soil" and "water" were important in its founding, and how Takeuchi grew to become a worldwide manufacturer of construction equipment
.
Takeuchi's Beginnings
Mr. Akio Takeuchi founded Takeuchi in Nagano, Japan around 1963 and is still the president today (at the age of 84).
Takeuchi's original focus was on environmental management with core business themes of "soil" and "water"
. These business themes were quite appropriate for an environmental emphasis.
As time went by, Takeuchi equipment grew popular because of the creativity and innovation they applied toward solving their customers' problems
.
First Compact Excavator
Takeuchi's first major impact on the international construction industry began in the 1970s, when s
omeone approached Mr. Takeuchi with the need for a mechanized approach to digging home foundations
.
Until that time, construction crews relied on pickaxes and shovels, and the work was slow and time consuming
.
Takeuchi
met the challenge, leading to the development of the world's first 360 degree slew compact excavator in 1971 (the
TB1000)
.
Takeuchi compact excavators were also used in the destruction of the Berlin Wall in 1989.
Takeuchi also makes full-sized excavators. Their largest excavator weighs in at
slightly
over 17 tons.
First Compact Track Loader
The compact track loader came about during Mr. Takeuchi's visit to the US in the 1980s. Mr. Takeuchi's attention
was drawn
to the fact that skid steer loaders didn't work in wet, muddy conditions. In response, he headed back to Japan to work on a solution. The result was the
compact rubber track loader
, or CTL, that we know so well today. It was first introduced to the world back in 1986. Unlike
skid steer loaders
, compact track loaders can work in the rain and mud.
International Product Line
Today,
Takeuchi
remains a popular manufacturer of construction equipment.
Takeuchi specializes in track loaders, skid steers, hydraulic excavators (including
zero-swing excavators
and conventional excavators), wheel loaders, and attachments
. Their equipment
is found
on construction sites around the world.
Takeuchi also has five companies worldwide located in Japan, Britain, France, US, and China
.
Conclusion
Takeuchi is a major player in the construction equipment market. Their equipment
is known
for quality, durability, and functionality.
Whether it's a Takeuchi zero tail-swing compact excavator for projects in crowded urban settings or a Takeuchi track loader for use in a swampy area, Takeuchi's product lines will continue to
be found
worldwide for numerous years to come
.
Texas Final Drive is your partner in providing new or remanufactured final drive hydraulic motors from a single mini-excavator to a fleet of heavy equipment. Call today so we can find the right final drive or hydraulic component for you, or check out our online store to find your O.E.M. manufacturer brand motor now.